This has been a FUN season to be a Florida State football fan- and the season's not even over yet! I'm no fairweather fan- most of my college years were filled with some pretty heartbreaking losses but many fun tailgating memories. As an alum living out of state, my favorite way to celebrate gameday weekends are at the neighborhood bar, decked out in my garnet & gold and talking FSU football with anyone who will listen!
I was SO excited to design my own Barrington Gifts gameday tote in garnet & gold & in true southern style, a heat stamped leather monogram. Their site was incredibly user friendly- letting you customize & see a preview of the pattern and monogram you choose. I've been toting my bag everywhere since I got it in the mail- it's the perfect size for a weekend away or a stylish gym carry-all with its interior pockets for storage.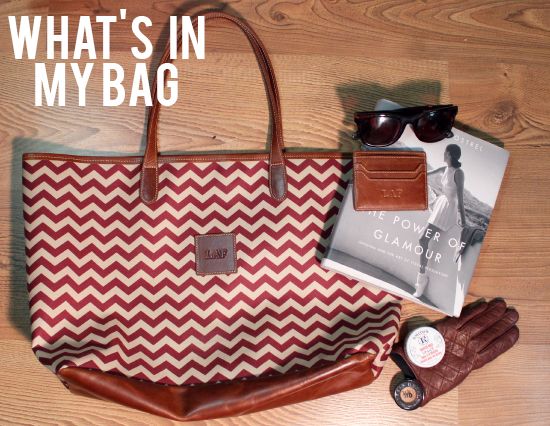 What's in my Bag:
St. Anne Gameday Chevron Tote via Barrington Gifts
//
Monogram Card Case
The Power of Glamour
//
Urban Decay Half Baked Eyeshadow
//
Rose's Lip Salve
//
Tortoise Sunglasses (Similar)
A few of my essentials lately have been lip salve for all of the awful cold weather we've been experiencing, a pair of leather gloves. The Power of Glamour is the latest read in our Young Female Entrepreneur's
Bootstrap Book Club
!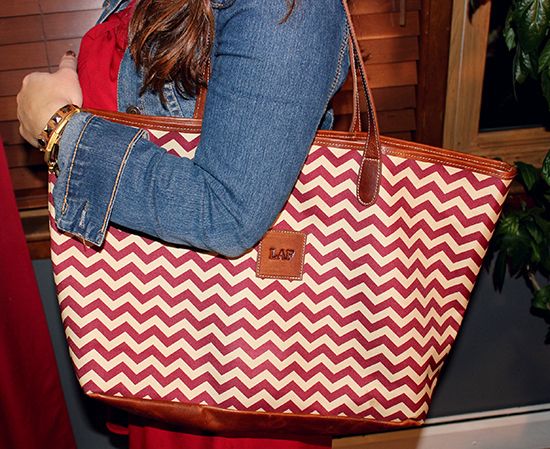 The
Barrington Gifts
site is incredibly user friendly- letting you see a preview of the pattern and monogram you choose. Their gameday & classic totes would make a gorgeous, personalized Christmas gift! Jenny, their Creative Director, even gave them as gifts to her bridesmaids in her wedding colors. I am
of course
partial to garnet and gold, but they have endless color combinations and patterns to choose from to make it your own!
La Petite Fashionista readers can get a special deal! Use promo code MERRY20 to get 20% off your purchase until Friday, December 6th!
xoxo, lauren