Our monthly Blgger Buzz for December is here! This week, we're all sharing three things we'd like to find in our stocking. With Christmas right around the corner- this couldn't be more fitting and all of the girls have fabulous picks!
Be sure to check out the affordable
gift guides
for the blogger, fit fashionista & domestic goddess that I've curated for your shopping assistance is month as well!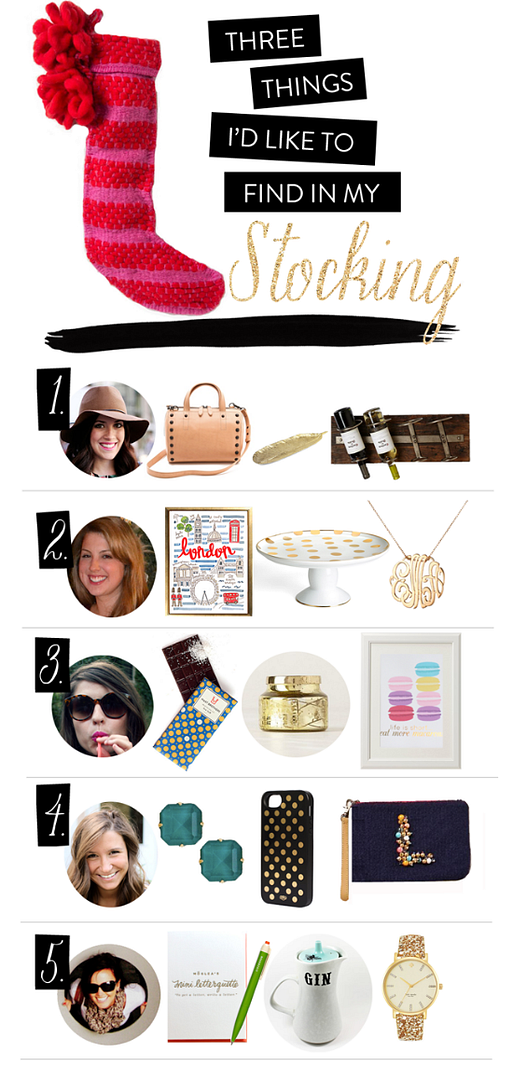 The Blogger Buzz is back. This month, the ladies are hoping for something other than coal in their stocking.
Here's an assortment of sparkly and colorful items they wish to find instead:
I already have a place picked out for this print in my living room! The room is basically British themed and I love how punchy and bright this is! Evelyn Henson is really fantastic!
This cake stand is so fun! I can just imagine putting fun cakes on this at the party I have to throw for my birthday bucket list!

I

need this necklace! I love the script and I feel like it would be a staple in my wardrobe and I could layer it with other necklaces!
I'm smitten with Meg Gleason's work. The pops of color and two-centuries old letterpress from which her products are printed. I die. This hand-bound "letterquette" is just lovely!
Gin in a Teapot — I'm certain it was created with me in mind!
Being punctual never looked so sparkly. This watch from Kate Spade would look snazzy on my wrist.
Tell us, what do you hope to find in your stocking?
xoxo, lauren