One of my favorite Christmas gifts this year was a
Fitbit Flex
! As a goal of having a healthy + happy mind, body & soul this year I was really excited of the idea of tracking & being more conscious of my health. This stylish little gadget tracks steps, calories burned & sleep and the app it syncs with lets you log food, water & see how your friends are performing that week.
I also gave my boyfriend one for his Christmas gift and we get pretty competitive. This week is our first challenge against eachother and we're both doing whatever we can to have the most steps in by the end of the week! (Now if only I could get my fitbit to choose outfits in the morning ;)
I LOVE the way that wearable tech accessories are becoming a true fashion trend. I've rounded up a few of my favorite tech accessory arm parties with the fitbit, nike fuel band & samsung galaxy watches! That's my arm party in the first images with the pink fitbit!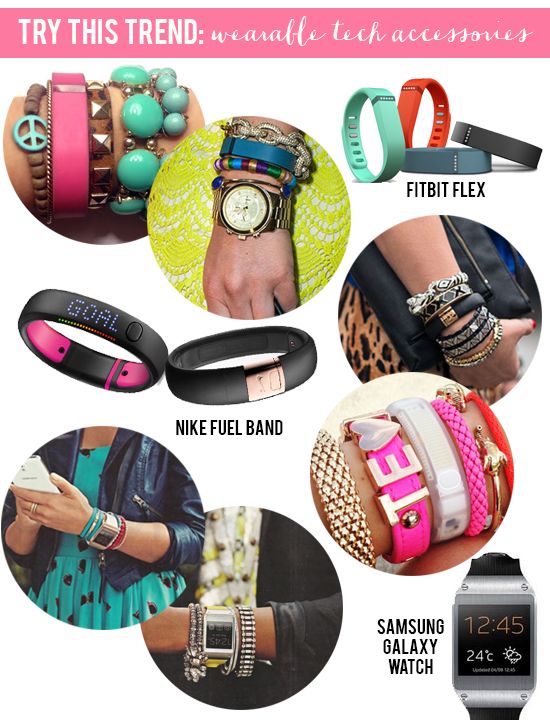 I'm a huge tech + social media nerd (surprise, surprise), so I've been following the Consumer Electronics Show this week to see what's new and exciting in technology & gadgets and wearable tech is a HUGE one. I'm also extra psyched to be a fitbit fashionista because
Tory Burch
is releasing fit bit bands in her signature colors and prints!
I highly recommend checking out a wearable tech piece, especially the fitbit. It's a great way to sync up technology and fitness and keep you motivated throughout the week!
Does anyone else own a fitness tracking device or smart watch- what do you love about it?
xoxo, lauren