I am always up for a little style challenge! I wanted to create three different looks using this perfect
striped skirt
from affordable & chic online boutique,
Shoot the Moon LA
. Let's facet it- I'm all about the versatility of the pieces I add to my wardrobe! I created a casual daytime look, colorful dressy look & elegant date night look- how about that for versatility?!
One Striped Skirt: Three Ways - Casual // Colorful // Date Night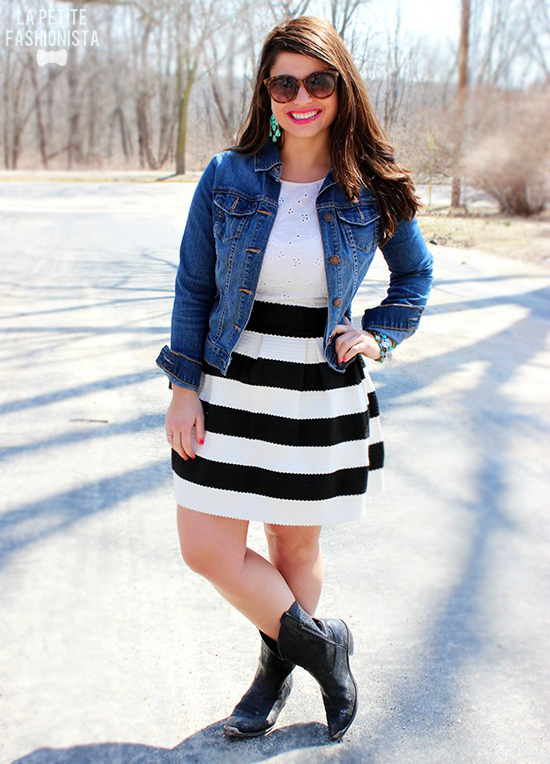 I love the idea of paring more casual pieces with a dressy party skirt! I created this look with summery eyelet, my beloved denim jacket, a pair of worn in vintage cowboy boots. I'm all about the country chic!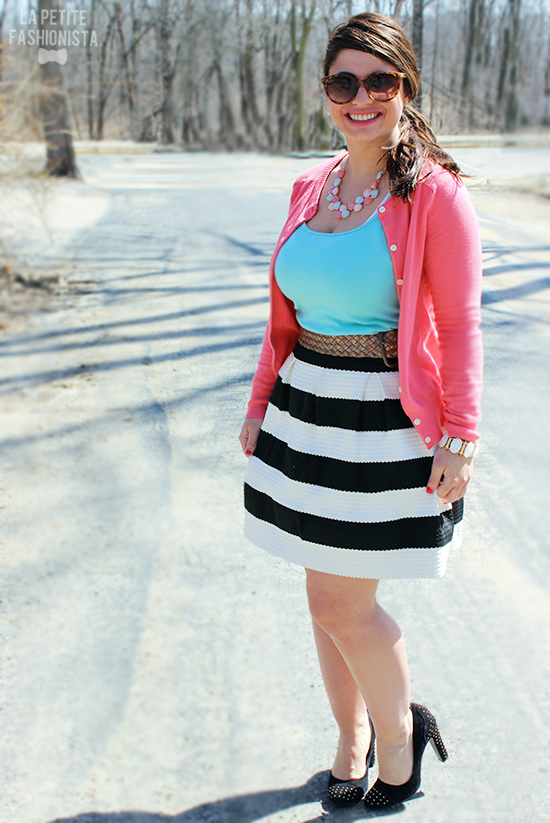 I'm rarely seen without at least a pop of color on. This skirt would be perfect for Easter brunch paired back to bright pastels & a colorful statement necklace!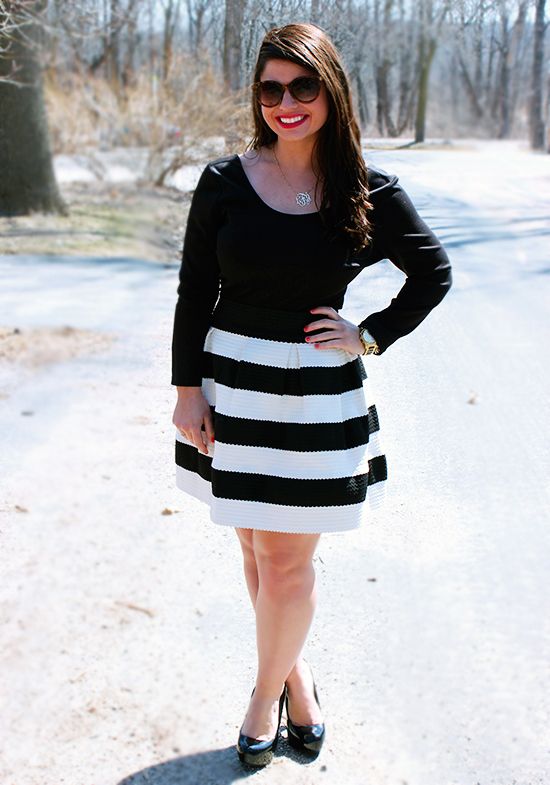 By pairing the skirt with a black top (not pictured is the adorable bow on the backside), patent leather heels & delicate monogram necklace- it instantly becomes the perfect date night look!
I've also picked a few of my favorite pretty printed dresses from
Shoot the Moon LA
that are perfect for the springtime. I am pretty in love with the trellis pattern!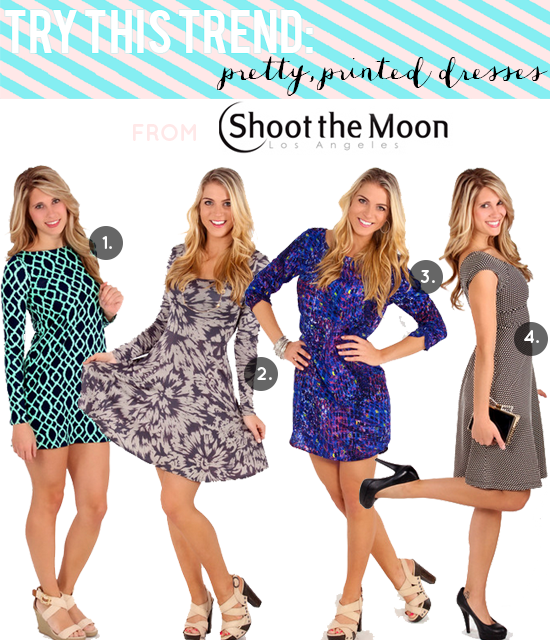 Since I love hearing the stories of fellow women entrepreneurs, I asked the owner, Carrie, to answer a few questions about her store, Shoot the Moon LA , for LPF readers!
LPF : What made you want to launch Shoot the Moon?
Shoot the Moon: I realized after moving to LA that I had amazing fashion resources right at my fingertips. I want to provide versatile fashion for young professional women while still appealing to a broader age range. Having easy, in-person access to so many fashion sources allows me to touch and try on the items before I stock them, so I know I'm getting what's best for my customers.
Living in LA allows me to buy more often and in smaller batches than non-local boutiques. This means my inventory is always up to date with the latest trends. I find it pretty cool that a one-woman show is able to keep inventory fresher than many multi-million dollar companies just by utilizing local resources.

Not only do small, frequent batches of inventory keep my site up-to-date and on trend, but they also help keep prices down. Since I have less overhead than a company buying for months and months in advance, I'm able to pass savings off to my customers.
LPF: Do you have any tips for aspiring women entrepreneurs?
Shoot the Moon: Research, hard work, and attention to detail. I'd love to say that it's all passion and creativity, but those things alone don't make a sustainable business model! I am constantly reading about better ways to do things and learning from other entrepreneurs. It's easy to get caught up in the grandeur of running your business and let the details fall through the cracks. Bookkeeping and accounting aren't fun, but they're super important. Finally, I'd remind people not to be shy about asking for help. This is one I'm still working on. Asking for help doesn't show weakness. It shows a dedication and commitment to making things the best they can be!
LPF: How Do You Envision the "Shoot the Moon" Girl?
Shoot the Moon: The Shoot the Moon girl, above all else, is fun! She loves life and while she's so much more than what she wears, she seems to always look fabulous. I think women of all ages can enjoy our pieces. The Shoot the Moon girl can be preppy, trendy, edgy, or all of the above. I love seeing people with completely different styles wear the same piece in two totally different ways. It's amazing how jewelry or a scarf can change the look of an outfit!
Which dress can you see yourself in this spring?
xoxo, lauren