It's that time of year again! Time to clean out your closets, put away the heavy coats and sweaters and break out your spring dresses again. I've rounded up a few of my favorite tips for a more stylish & organized closet. Trust me, after squeezing my fashionista wardrobe into a shared closet with my boyfriend I've learned a lot over the past year about space efficiency & organization!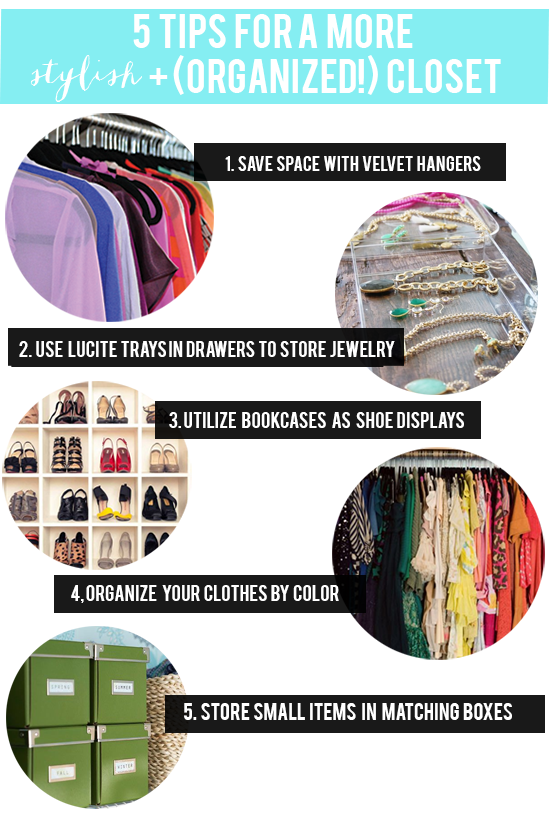 5 Tips for a More Stylish + Organized Closet:
1. Save Space with Velvet Hangers Not only do no-slip velvet hangers keep clothes from falling off the hangers- they're so slim that they allow you to hang more in your closet (Win, Win!)
2. Use Lucite Trays to Store Jewelry in Drawers: The best part about clear lucite trays & drawers for jewelry storage is that you can see where everything it is instead of hiding it away in a dark jewelry box (I'm partial to the monogrammed ones!)
3. Utilize Bookcases for Shoe Displays: If you have the space- there's really no better way to organize and showcase a gorgeous collection of shoes than on bookcase shelves (Ikea has a great model for this!)
4. Organize Your Clothes by Color: Not only does this make a colorful statement in your closet- it also helps you to more easily visualize what you already own and what "holes" there are in your closet.
5. Store Small Items in Matching Boxes: Colorful boxes are great for storing smaller items in your closet- scarves, cold weather accessories, tights! Making sure the boxes or storage bins match, or coordinate, will make them feel more cohesive.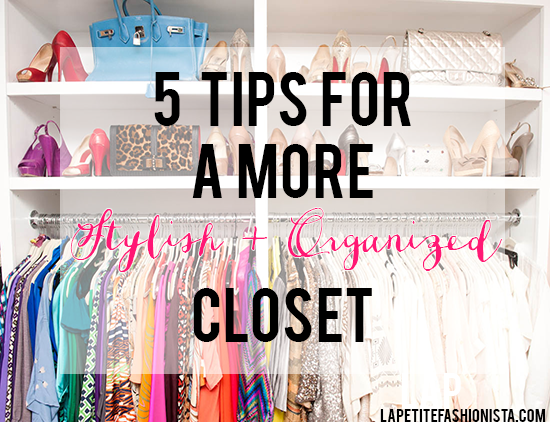 Now that you've seen my 5 closet organizing tips, I've got the organizational tools of the trade to help you make your closet a more stylish & happy place!
How do you keep your closet stylish + organized?