Regardless of my new working from home situation- I'm still all about the
Easy Meals for Busy Girls
! I wanted a recipe I could throw in the crockpot, was super simple and could have ready for dinner in a few hours. I found a recipe for a Southwest Chili and adjusted the ingredients to make it my own based on what we had around the house (nothing bugs me worst than wasting produce).
I've got the steps to making this simple recipe for yourself below.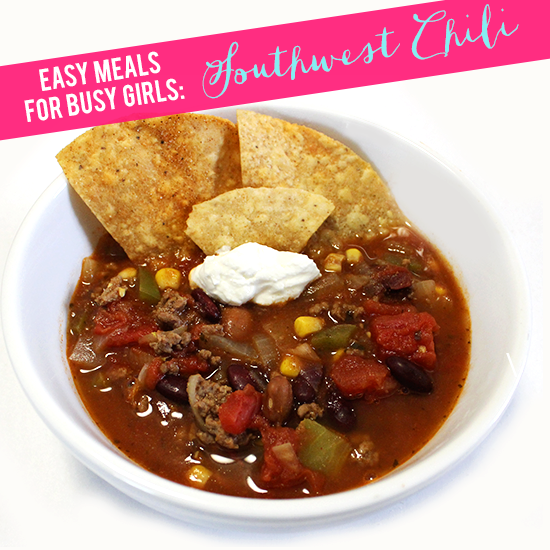 SOUTHWEST CHILI INGREDIENTS:
1 lb of Lean Ground Beef
1 (16 oz) can Chili Beans
1 can (16 oz) Kidney Beans
1 (16 oz) can of Corn
2 (14.5 oz) cans of Diced Tomatoes
1 (8 oz) can of Tomato Sauce
1 Diced Onion
1 Diced Green Pepper
1 tsp of Diced Garlic
1 Cup of Light Beer/ (or Water)
1 Cup Water
Salt + Pepper
Toppings:
Shredded Cheese
Sour Cream
Tortilla Chips
DIRECTIONS:
1. Add 1/2 tsp of olive oil to pan on medium heat. Season ground beef with 1/2 of taco seasoning mix. Add seasoned beef to hot pan along with 1 tsp of diced garlic and chopped onions.Continue cooking until browned, drain any grease & set aside.
2.Place cooked beef, kidney beans, chili beans, corn, tomatoes, tomato sauce, diced onion & green pepper & remainder of seasoning into crockpot. Add water, beer and mix ingredients together.
3. Cook on High for 4-6 Hours or Low for 8-10 Hours.
4. Serve with optional toppings for extra yumminess!
I loved this southwest take on chili using taco seasonings instead of just chili powder and adding in some extra veggies. It gave it a unique and delicious taste, and was fairly guilt free with all of its veggies, beans & lean beef! It's a recipe that you could easily make your own depending on what types of canned beans & veggies you have in your kitchen!It was boyfriend approved too. It will definitely be one I'm adding to my recipe box!
What are your favorite recipes for the busy girl that you've been cooking up lately? Do share!
xoxo, lauren