As you might have seen on
instagram
a couple of weeks ago, I had the most amazing whirlwind trip to San Fransisco to partner with Nordstrom Rack on their new #ShopGenius campaign! I felt a little like Cinderella, choosing the perfect heels for my trip, jetsetting for a photoshoot, meeting a ton of fabulous bloggers, and attending a private shopping event for the new Nordstrom Rack store opening in San
Francisco
!
I absolutely can't wait until the new store in Milwaukee opens on April 3rd I'll be the one hunting down the best deals and snatching up the Tory Burch flats in size 7.
I wanted to share a few of my favorite snapshots from the #ShopGenius summit.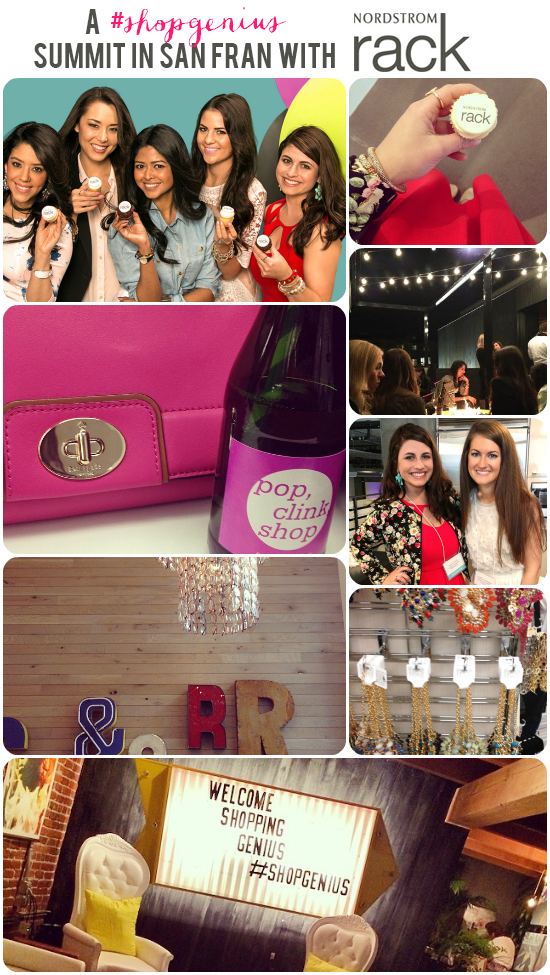 Photos (L-R): Bloggers A Love Affair w/ Fashion, Hapa Time, Walk in Wonderland, Pink Peonies & Me at our Nordstrom Rack photoshoot // the cutest of cupcakes // My Kate Spade bag I scored at Nordstrom Rack // A chic yellow dress at the Nordstrom Rack store opening // Me & Caitlin of Southern Curls and Pearls // The chandelier made from eyeglasses at Hotel Zetta // statement necklaces at the Nordstrom Rack store opening // Our pop-up #ShopGenius dinner in San Fran
So what exactly is a Shop Genius you ask? It's that feeling you get when you score a Kate Spade handbag you've been coveting for 60% off (see above for my new hot pink beauty of a bag)! The best thing about shopping with other bloggers was getting their opinions. I was debating between two bags and Caitlin (from Southern Curls and Pearls) told me I had to get the pink because it was so LPF.
The store opening event at the Nordstrom Rack was unlike anything I'd ever seen. I get a thrill from getting a good deal, especially if it's on one of my favorite designers like Michael Kors, Trina Turk or Free People- so I was in shopper's paradise!
During my Shop Genius Summit we also had the amazing opportunity to do a photoshoot with an ad campaign photographer. I'm by no means a model, but I had so much fun behind the camera rocking a crazy gorgeous Marc Jacobs bag & signature arm party. We ended our weekend with a memorable pop-up dining experience in downtown San Fransisco catching up with the other bloggers over a glass of wine & rooftop lounge!
Show Nordstrom Rack some love! Follow them on instagram & use the

#ShopGenius

hashtag on your social media accounts to share your shopping confessions & amazing deals scored with them.
They might even feature your picture on their Instagram page. Don't worry, when it comes to a pair of designer heels you scored for 60% off, it's okay to brag savvy shoppers!
I
couldn't
be more excited to work with a brand that stands for everything that La Petite Fashionista does- inspiring style at amazing prices with an added dose of charm & legendary customer service. I hope my fellow Wisconsinites are just as excited as I am that Nordstrom Rack will be opening a store in Milwaukee on April 3rd!
xoxo, lauren