Boden
has always been one of my favorite brands because it's just so La Petite Fashionista. The colorful prints, modernized classics & quintiscentually british style make it a truly unique place to shop. I mean, how can you not love placing an order on the phone and hearing a cheery British accent on the other end! The brand is making closets fun again with their bright colors & prints and beautiful silhouettes that make you feel like the best version of yourself.
The sun was finally making an appearance after six months of hiding this week and I met my boyfriend for lunch downtown (major perk of self employment). I had to laugh when I saw that the cup from one of my favorite coffee shops quite perfectly coordinated with my outfit!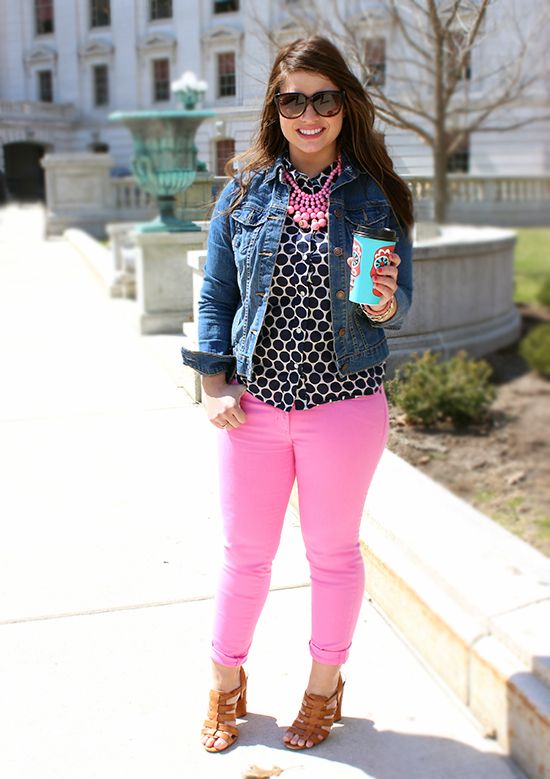 I've been dying for a pair of colorful skinny jeans and this pink pair was absolutely calling my name. Paired with preppy navy polka dots and it's a match made in heaven! It's amazing how transformative a pair of pants can be to your attitude. In a spring that just hasn't been cooperating, slipping on this pair of colorful pants has given me an instant sunny disposition! I can't control the weather but I can definitely sport some springy clothes that make me smile! :)
Do some shopping at the
Boden
site and I have no doubt you'll find some clothes that will bring a splash of happy to your life too!
xoxo, lauren
Disclosure: This post was sponsored by Boden through their partnership with POPSUGAR. While I was compensated by POPSUGAR to write a post about Boden, all opinions are my own.