Blogging conferences are magical places! Being a blogger can be hard if your friends and family don't understand what you do- why you'd skip out on a friday night to do a photoshoot instead or need to stop before eating dinner to snap a picture of your beautifully styled plate. Being at Go Blog Social in Kansas City last weekend was amazing because I was surrounded by 200 people who shared a passion for blogging!
The event was filled with so many inspiring bloggers from around the Midwest and I came away with so many new friends, new blogs to read, and a face to the name of the site's I've been looking at online for so long! I even had the opportunity to speak which was equal parts terrifying and exciting. It meant the world to me to have people come up and talk to me after and share their blogging stories & questions!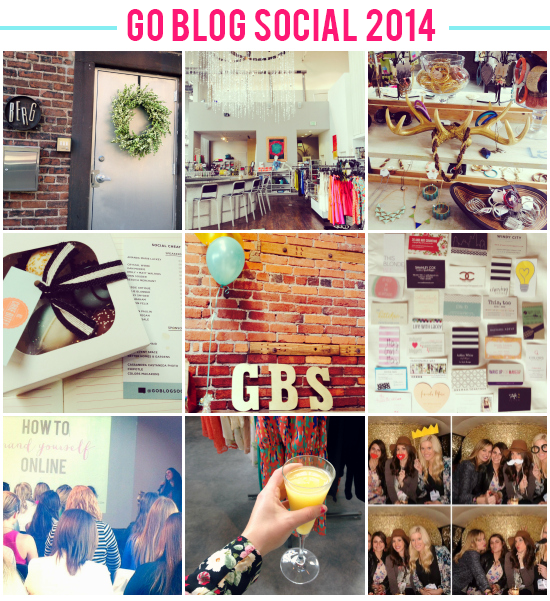 1. The beautiful event space for GBS- the Berg Event Space // 2. The most amazing store ever; the Garment District in Kansas City // 3. Gold antlers on display at the Garment District // 4. Delicious cake balls + social media handout // 5. GBS in the event space // 6. Business cards collected from some amazing blogger // 7. My "branding yourself online" presentation // 8. Mimosas + shopping // 9. Cheesin' in the photobus with
Maya
,
Sam
&
Katelyn
I think one of my biggest takeways from Go Blog Social was that we should all be lifting eachother up! There is more than enough room for all bloggers to find their niche & share their content. We should all be spreading the good blog karma and supporting & helping eachother out in this crazy little world of blogging.
I'm so thankful to have had the opportunity to attend GBS! Kansas City was such a gorgeous city and I'd love to go back and spend more time there. I learned a ton about photography, growing your brand, styling vignettes & working with brands. I can't wait to keep in touch with all my new blogging girlfriends! It was so cool to have grown our group of
Midwest Bloggers
. Thank you so much to the ladies who put on this wonderufl weekend!
xoxo, lauren