If you've ever read my blog before you'd probably know that I am a complete accessory-aholic. I live for affordable, colorful, and trendy accessories. So, I was so excited to find
Zoe Emilie
, because each beautiful piece of statement jewelry is not only just my style but also fits in my budget!
I was so excited to style the gorgeous
turquoise stone tassel necklace
with one of my outfits this weekend. The turquoise was the perfect pop of color against my yellow sun dress and is easily going to become one of my favorite jewelry pieces. I let the necklace be the standout piece in this outfit, staying minimally accessorized.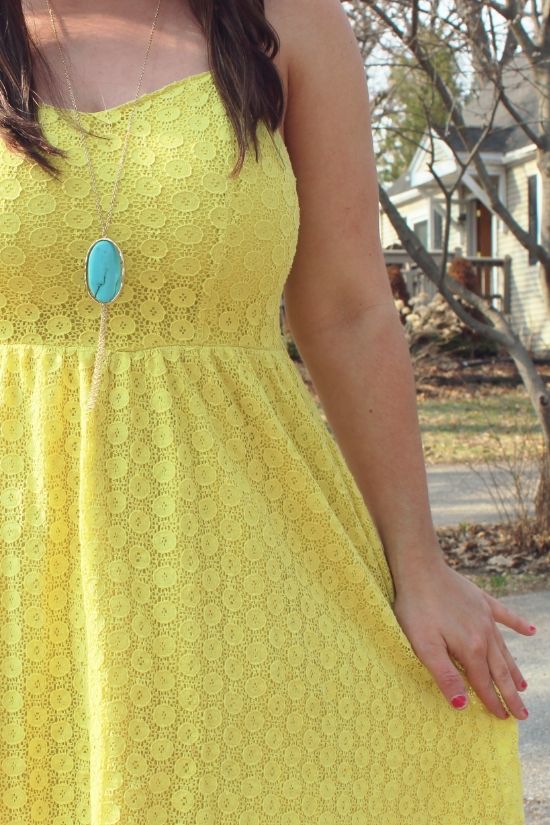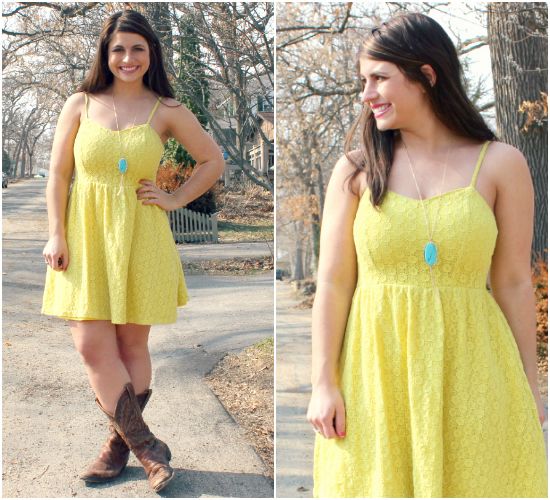 What I'm Wearing:
Yellow Sundress- Target // Cowboy Boots- Justin Boots // Turquoise Stone Tassel Necklace-
Zoe Emilie
As you know, I love hearing the stories of other women business owners, so I couldn't resist asking Zoe, to share answer a little bit about her business. She comes from a creative and entrepreneurial family and after working for a diamond jewelry company having some amazing opportunities (like working backstage at a Victoria's Secret Fashion Show) she made the leap to starting a company of her own!
LPF: What made you want to launch Zoe Emilie?
Zoe: Being a mom is the best but most difficult job you can ever have. I always thought I would be a working mom, so when I ended up being a primarily stay at home mom for a few years, I felt lost. I loved spending time with my kids and other moms, but I felt like a part of myself was missing. I was always seeking out ways to stay involved with the community and was keeping my eye out for flexible business opportunities. Of course nothing ever came around that was exactly what I wanted. I knew that if I was going to work again that it had to be on my own terms and be something I was passionate about. I work very part time for a non-profit coordinating kids cooking field trips to BU, so I was able to keep the culinary passion going on the side, but I severely missed having an outlet in fashion and I was not prepared to work retail or corporate again.
After my past experiences in the jewelry business and helping a friend with her store and then seeing my brother launch an online store for his hats, I knew that I could do something on my own if I put my mind to it. Just this past fall, I filed the paperwork with the IRS, bought a domain name, opened some wholesale accounts, dug out my jewelry making supplies and decided to dive in. One of my closest friends told me that if I didn't do it, someone else would. My husband said that the worst that could happen is that I have to sell everything to my friends at cost to make my money back. Luckily I haven't gotten to that point yet!
LPF: How Do You Envision the "Zoe Emilie Girl"?
Zoe: I pick most of the jewelry with me or my friends in mind. I think the Zoe Emilie girl wants to look great and keep up with the trends but not at a huge expense. I think she is not overly trendy, more classic in style but likes to experiment with fashion from time to time with fun statement accessories that allow her to express herself and stand out.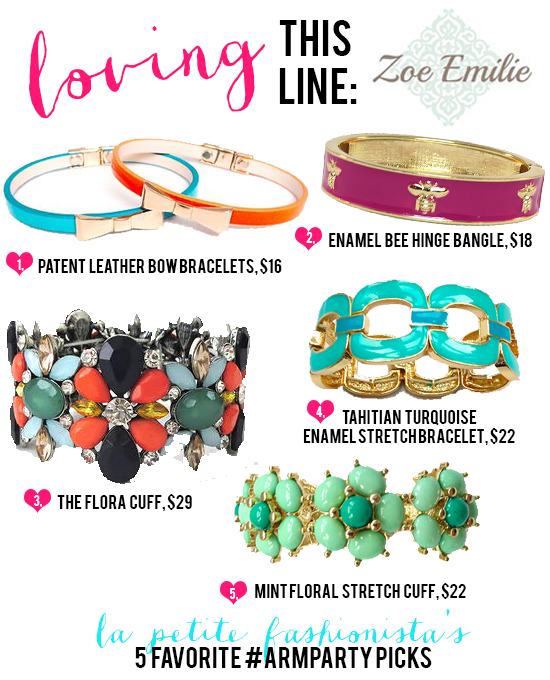 It's funny how the daily #armparty has sort of become my thing! I'm rarely without at least a few bracelets on my left wrist. So I thought I'd pick a few of my favorites from Zoe Emilie to share some serious arm party action! How LPF are those patent bow bracelets?! You have to check out the Zoe Emilie to site to check out all of the beautiful accessory goodness for yourself! I'm so happy to have discovered this gem!
Which bracelet are you dying to add to your Zoe Emilie #armparty?
xoxo, lauren