I have a confession to make.. I judge a book by its cover. It sounds silly, but seriously I'm so much more likely to pick up a book with a beautifully designed cover (and usually read the first couple pages to see if I'll like it). Thankfully these books not only have gorge covers but glowing reviews too- so they're all going on my summer reading list!
When I was growing up I was a total bookworm- making weekly trips to the library with my gramma, and reading like crazy - I credit my horrible vision to trying to read in the dark backseat of my parent's Mercury as a kiddie.
I bring you my list of best beach reads - with beautiful covers + reviews!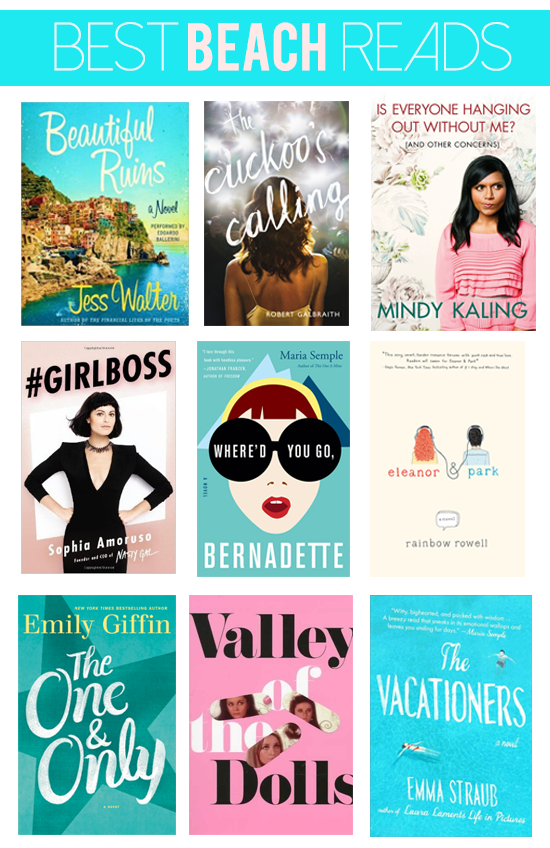 4.
#GIRLBOSS
| 5.
Where'd You Go, Bernadette
| 6.
Eleanor & Park
7.
The One & Only
| 8.
Valley of the Dolls
| 9.
The Vacationers
I think I'm going to download Mindy Kaling's book for a flight today- I've listened to #GirlBoss on Audible- It's one of my faves! Also, did you know that Robert Galbraith, the author of The Cuckoo's Calling, is actually a pen name for J.K. Rowling? I've heard so many good things about these reads. It's time for this bookwork to get to work!
What are your latest reads / on your summer reading list?
xoxo, lauren