I spent my Saturday morning hitting up all of our local thrift stores looking for some furniture + décor pieces. When I was in high school I volunteered at one & loved being the first one to score pretties as they came in the door. I even organized a charity fashion show using all pieces from the thrift store. I always take a peek at the clothes to see if I can find anything fabulous.
I hit the thrifting jackpot this weekend and found some seriously gorgeous pieces (I gave a little peek on
instagram
) including this striped tank with lace collar detail. This outfit felt perfectly prim especially with the vintage scarf turned bracelet, lace collar detail & pink lips.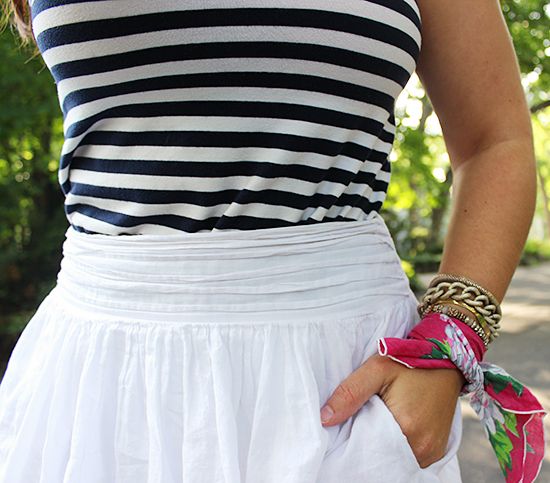 I'm a big proponent of cleaning our your closet & donating to your local thrift store- and saving $ & helping to give back by shopping there too. My favorite thrift store in Madison?
St. Vinny's
! I've found tons of gems there including vintage glassware for entertaining & fashionable finds.
Check back soon for my guide to thrift store shopping & finding the diamonds in the rough. Have you ever shopped at a thrift store?
xoxo, lauren
The
Social Media with Style Workshop
starts in ONE week, but there's still time to sign up! If you're ready to take your blog to the next level or tired of playing the comparing yourself to others- join us! As always, feel free to
email me
with any questions & check out the
course outline.