Sorry guys, I couldn't help myself with this post title- I love a good Disney reference ;) Lately, I've been trying to jump back into a workout regimen. It's perfect timing too, since
Tone It Up
's "Frisky Fall" Series just started this week. Two of the lovely ladies in my Social Media With Style Workshop,
Annica
&
Megan
are even going to be accountability partners with me!
I can't workout unless I've got some upbeat tunes. So, I'm sharing 20 songs to help you "look like a beauty & train like a beast"! It's a great mix of new & throwback, hip hop, pop, & 80's rock and I hope you love it as much as I do. Let's be real- nothing gets me to go for that extra set of abs like the chorus of "Welcome to The Jungle."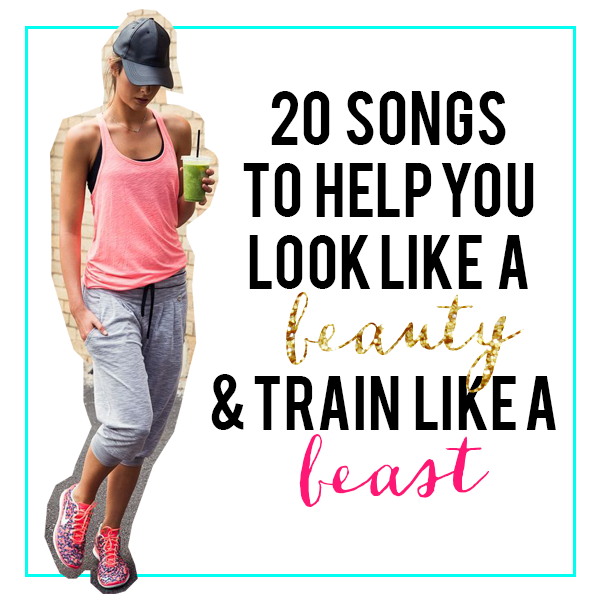 20 Songs to Help You Look Like a Beauty + Train Like a Beast:
1. "Work It Out" - Lil Jon
2. "Bad" - David Guetta
3. "Fancy" - Iggy Azalea
4. "Problem" - Ariana Grande
5. "Summertime Sadness Remix" - Lana Del Ray
6 "Say My Name" - Destiny's Child
7. "Stereo Hands Mix" - The White Panda
8. "Am I Wrong" - Nico and Vinz
9. "All About That Bass" - Megan Trainor
10. "All I Do Is Win" - T. Pain
11. "Dark Horse" - Katy Perry & Juicy J
12. "Right Now" - Rhianna
13. "Walk It Out" - DJ Unk
14. "Midnight Life Mix"- The White Panda
15. "Shake It Off"- Taylor Swift
16. "Pour Some Sugar On Me"- Def Leppard
17. "Your Love (Josie)" - The Outfield
18. "Firefly Ellie Goulding Mix"- The White Panda
19. "We Run The Night" - Havana Brown
20. "Welcome to the Jungle"- Guns N' Roses
Play them right here in this handy widget!


I so miss the fun workout classes I used to take in college. Lately, in my attempts to save money (the joys of starting your own business;), I've been sticking with youtube workouts.
What songs keep you motivated during your workouts? Any guilty pleasure songs (like my Destiny's Child, "Say My Name"? Please say I'm not the only one..)
xoxo, lauren