I had the pleasure of attending
Go Blog Social
in Chicago last weekend (and stayed with one of my favorites,
Maya
)! I cherished the opportunity to catch up with familiar faces (& meet some sweet new friends) and soak up some words of wisdom from some of blogging's best.
The trip was a total whirlwind, but I had a lot of fun - and it was quite a relief not to have to speak for an audience- and instead could just indulge in lots of coffee and live tweeting. My favorite part was probably getting to meet a few of the ladies from my
Social Media With Style
workshop-
Cait
,
Hillary
&
Elaine
. I also adored hearing Danielle from the Everygirl speak- it's one of my favorite sites!
I'm sharing a few of my favorite snaps and moments from the event throughout the post!
I snapped this picture at sunrise out the window & it turned out looking more like a watercolor!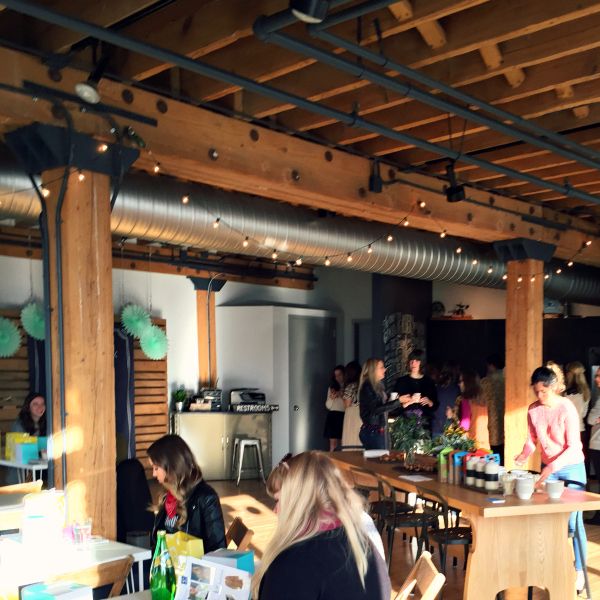 How gorgeous is this space at
Workshop
in Chicago?
Obsessed with this gorgeous chalkboard art.
Larkspur Chicago
had some gorgeous fall floral arrangements around the workshop!
Go Blog Social notebooks from Minted & business cards for networking.
Here are five of my favorite quotes from Go Blog Social Chicago- right from the live tweets from the event attendees!
Only say "yes" to things that align with your voice and mission. Define your mandatories.

@prettyandfun #GBSxCHI
Not how people perceive you, it's about constantly learning, growing and building something for the future.

@whatruwearing_ #GBSxCHI
Have you ever been to a blogging conference, or would you like to?
xoxo, lauren