Growing up I was an avid reader and I still love reading, but life gets so crazy it's tough to make time to snuggle up with a good read. Kyle & I had a little getaway to Door County last weekend and it was the perfect excuse for some R&R! I finally had a chance to dig into a copy of
Eightysixed: Life Lessons Learned
by Emily Belden- and I
loved
it.
Emily's book has a Sex in the City meets Chicago setting and tells a story about life, love & the hilarious happenings that life often brings. I related to so much in her memoir. The stories of heartbreak, moving somewhere far from family & a hopeless dating scene are all scenarios I've encountered in my post-college years. There were times I was shaking my head while reading saying "yep, been there!" & found myself literally laughing out loud talking about some hilarious boy encounters.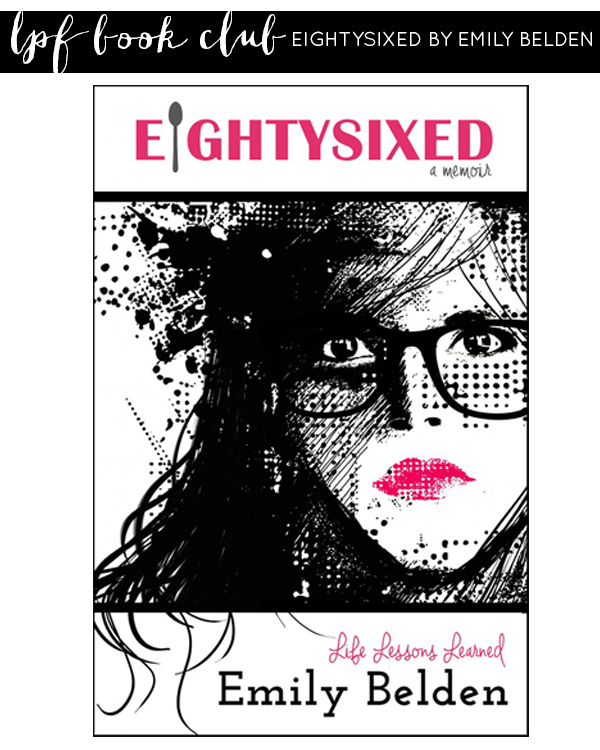 No one ever tells you your twenties are going to be such a crazy & unexpected time. I think Emily's story speaks perfectly to those times that we feel like we have life all planned out .. and nothing goes as planned- and sometimes that's exactly what's supposed to happen!
In the spirit of Emily's book, Eightysixed, I thought I'd share a few of the life lessons I've learned in my twenties:
1. Sometimes scoring your dream job is not all it's cracked up to be- and that's perfectly okay
2. A phone call from mom after having an awful day can be seriously mood-changing (fro yo definitely helps too)
3. Saturday night at age 18 is wayyy different from Saturday night at age 25
4. If you try to have your life completely planned out (fellow Type A gals?) chances are things will not go as planned
5. Best friends will always be there- no matter the distance, no matter how long it's been since you've last talked or seen eachother- always.
I definitely didn't imagine myself at age 25 living in Wisconsin, owning my own business, finding the most wonderful Midwestern guy & still blogging my heart out at LPF- but here I am and I love it! Life can be exciting and unexpected and take you down a crazy path you've never imagined- just as Emily writes about- and that's what makes it so wonderful.
Check out Emily Belden's book,
"Eightysixed"
or put it on your Christmas list. I promise you will be able to relate to her story of life, love & laughter! See more hilarious musings from Emily on her
website
.
What's something you've learned in your twenties (or hope you know by the time you reach that age)?
xoxo, lauren