I'm sorry to be that girl talking about Christmas before Thanksgiving's even happened, but I can't help it. I'm so darn excited for the holidays and the snowy weather isn't helping to dampen my Christmas spirit. This week, I was just craving homemade hot cocoa. There's something so cozy about a mug of hot chocolate & being cozied up during the winter.
Apologies in advance if this peppermint hot cocoa recipe puts you in the holiday mood.
Peppermint Hot Cocoa
(makes 2 mugs)
1/4 cup unsweetened cocoa powder
1/2 cup granulated sugar
1/3 cup water
4 cups milk (can be dairy or non-dairy)
1/8 tsp salt
1 tsp pure peppermint extract
4 candy cane marshmallows (for topping)
Directions:
1. In a saucepan add water, cocoa powder & sugar & salt. Stir ingredients together.
2. Bring saucepan to medium heat & bring mixture to a boil. Stir constantly for one minute.
3. Lower heat & stir in milk. Be careful not to let the milk boil. Once temperature is adequate, remove from heat & stir in peppermint extract.
4. Ladle into coffee mugs & top with candy cane marshmallows.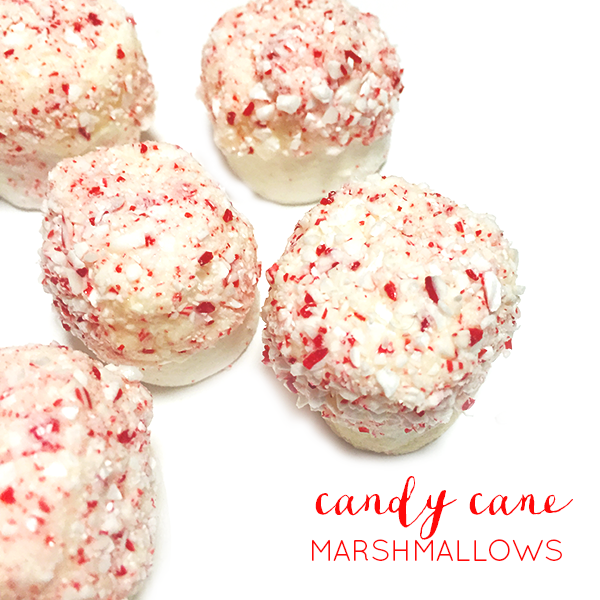 The candy cane marshmallows are the best part of this hot cocoa. They're so simple to make and oh-so-tasty. They look so pretty sitting in your mug but are equally as great as a snack!
Ingredients:
3 Candy Canes
10 Marshmallows
1/2 c White Chocolate Chips
Directions:
1. Place candy canes in plastic bag & zip shut. Using a meat tenderizer or mallet, crush candy canes into small pieces & pour into a small bowl.
2. In a small bowl, microwave white chocolate chips in 30 second increments, stirring well in between microwaving sessions.
3. Dip half of each marshmallow in melted white chocolate then cover in crushed candy cane bits
4. Let dry for 10 minutes, then they're ready for hot cocoa action!
Trust me I'm no Martha, but this stuff is almost as simple as opening a packet & heating up in the microwaves. The candy cane marshmallows add an especially festive touch and I was amazed at how well they turned out. I'm definitely going to be making them for holiday parties!
Are you in the early holiday spirit too? Speaking of getting inspired for the holidays- be sure to check out my
pinterest board
for ideas for decorating, recipes, gifts, outfits & more!
xoxo, lauren