Finding the perfect pair of jeans can often feel like a seemingly impossible task. I know that with my petite hourglass shape, that I'll be trying on more than a few pairs each time I go shopping for the perfect pair. Although it can take a while to find the perfect pair of
womens jeans
, when you do, there's no better feeling! You know the feeling- the kind you get when you have the favorite pair of jeans that always looks amazing on you.
A pair of jeans that fits & flatters can totally change the look of your outfit and make you feel more confident. It's also I place I like to invest in. When you think about the cost per wear- you definitely get your money's worth when you buy a pair of designer jeans that's durable, comfortable and looks great on you. I've rounded up my favorite jeans for each body type from True Religion.
I've created a guide to finding the perfect women's jeans for each body type. Though I have to say that I believe "rules" are made to be broken. Don't rule out an entire style of pants just because of your shape- find the pair that works for you with the right fabric, waistband, fabric & stretch. If you're petite (like me!) it doesn't mean that you don't share characteristics of the other body types.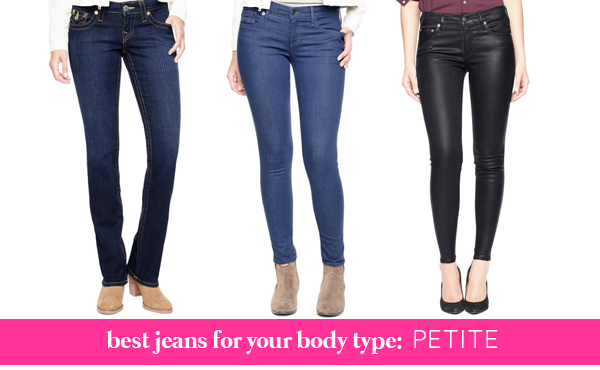 For petite women, you'll want to look for jeans that are specifically made for petite proportions or have a shorter inseam (36" is typically a petite length). By choosing a pair with a length that works with your body, you won't have to worry about those awful shredded hemlines from too-long pants dragging on the ground or pricey appointments with a tailor. For a petite body type we recommend trying pants in skinny & straight denim silhouettes in proportions built specifically for petite frames.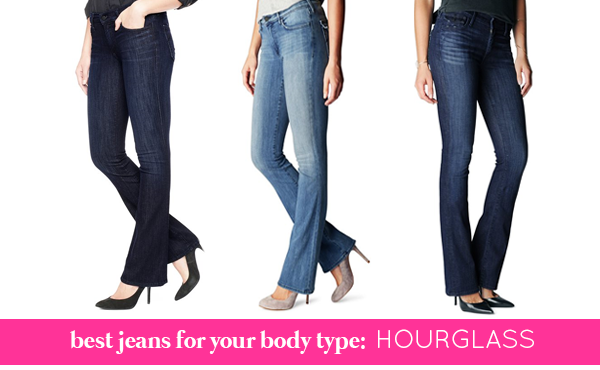 Hourglass Denim Styles:
If you have an hourglass figure your hips and chest are approximately the same width & your waist is smaller. Women with an hourglass figure will want to choose a pair of jeans that highlight their best asset. Look for pairs of jeans with contoured waistbands and a slight flare at the bottom to help balance your curves. A pair of dark wash bootcut denim is perfect for achieving this look!
Athletic Denim Styles:
With an athletic body type you may lack curves, but don't worry, with the right pair of jeans you can create them! A pair of skinny jeans is perfect for creating a more curvy look. Look for details like stitching or flaps on the back pocket to make your backside look bigger! The super skinny &
skinny jeans for women
are the perfect way to get the look.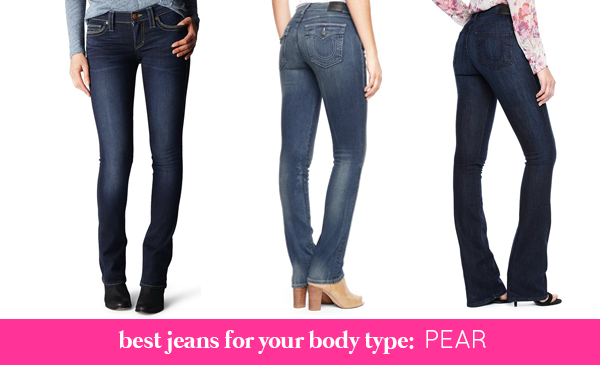 Pear Shape Denim Styles:
Cora Mid Rise Baseball Stitch Jean
|
Cora Slim Straight Jean
|
Becca Midrise Bootcut Jean
A pear shaped body means that you've got more voluptuous hips & backside. So, when it comes to finding the right pair of jeans, look for a pair that play up your curves. A pair of straight or
bootcut jeans
with stretch will accents all of the right places. Avoiding embellishment on the backs of pocket & choosing darker indigo washes for denim jeans will be most flattering for your shape.
Now you have all of my tips for finding your perfect pair of jeans!

Which is your favorite True Religion style?
xoxo, lauren