When the skies are gloomy and grey, there is nothing better than getting in a vacation state of mind! This ultra comfy "bon voyage" sweatshirt from
Boat House Apparel
definitely brings visions of wanderlust, traveling & adventure. The collection is inspired by fashion and the relaxed nature of life at the lake!
I'm joining designer Laura & the team at Boat House Apparel for the 10 Days of Style and rocking their Vacation Bon Voyage pullover.

What I'm Wearing:
"Vacation Bon Voyage" Pullover -
Boat House Apparel
| Sequin Skirt: JCP (
similar
)
Crochet Infinity Scarf: Aero (
similar
) | Cognac Ankle Booties: Splendid via
Shopbop
Navy Fleece Lined Tights: Forever 21 (
similar
)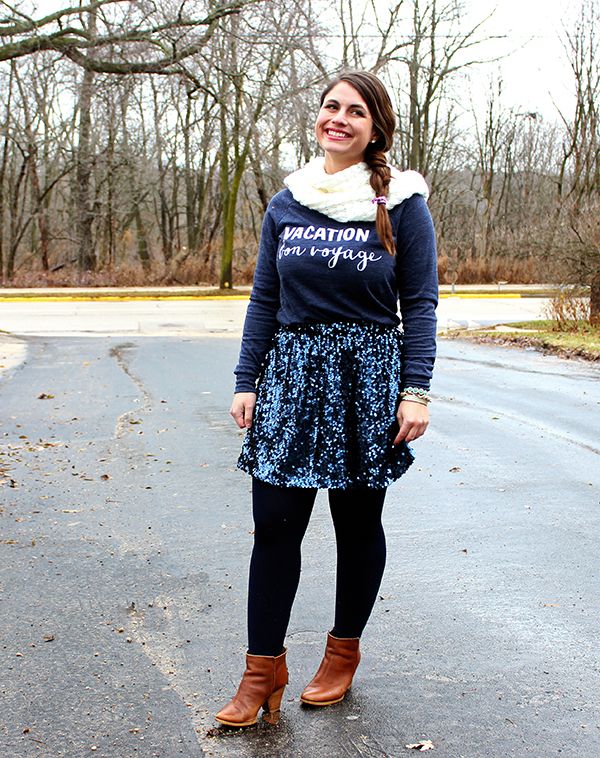 Boat House Apparel has Midwest roots, with a home base at Iowa's Lake Okoboji. I love being able to support a fellow girl boss in the Midwest! This pullover is literally one of the comfiest & most flattering pullovers I've ever worn. It has a slim cut & heathered fabric and this silhouette is majorly trending right now. I love the juxtaposition of a casual piece with the sequined skirt!
I think what I adore most about the brand is that there's also a nod to travel- with their
Eat Macarons for Breakfast
tee &
Bonjour
tee. I feel like the brand totally represents me too! I love living in the Midwest and all of it's charm, but I also have dreams of traveling Europe & taking French classes again.
xoxo,
lauren