This month has been full of learning and being inspired! So far in January I've been reading a ton having some great talks about business & life with fellow bloggers/ entrepreneurs and getting ready to launch our next
Social Media With Style Workshop
(starting on Friday- just one week away)! 2015 is already off to a great start and I'm trying to enjoy and reflect on ever moment of it.
I wanted to share a few of my Friday favorites- things that I'm excited about this week.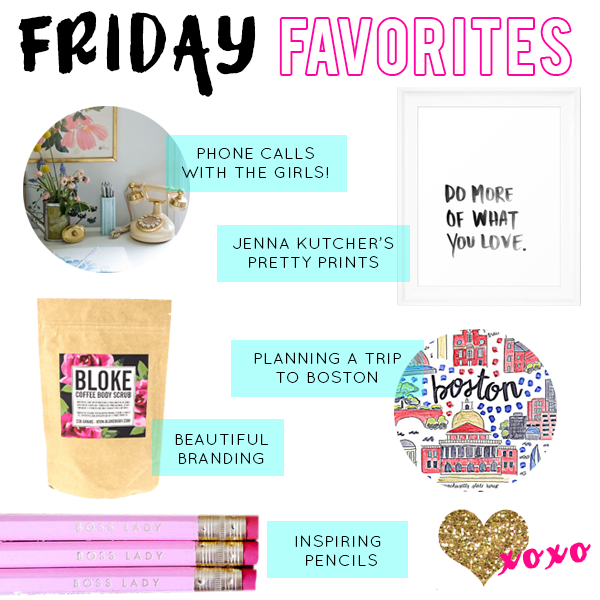 Lauren's 5 Friday Favorites:
1. Girl Talk: I'm so lucky to have the kind of friends where we can go without talking for a month and be able to pick up the phone and talk like no time has passed. I've been trying to spend this month catching up with friends and chatting about life. I've also been trying to do more connecting in person, coffee dates with awesome local bloggers.
2.
Jenna Kutcher's Artwork:
Jenna Kutcher is fellow Sconnie and amazingly talented photographer, artist & mac and cheese connoisseur. If you're not following her on
Instagram
yet- do it now! I'm obsessed with her prints in her
Society6 shop
, they all really speak to me at this time in my life and all beautifully done in watercolor.
3.
Boston Bound:
My incredibly inspiring sister
Allie
is spending the next couple of months working on a project all over the Northeast. I'm meeting her in Boston for a week and can't wait to explore one of my favorite cities. The last time we got together I brainstormed the idea for Social Media With Style, so I love being able to bounce business ideas off of her. I'm also going to be available for in-person
social media strategy sessions
if anyone lives in the area!
4.
Beautiful Branding:
I follow
Bloke Body
on Instagram & I have to give them kudos for their beautiful branding. They have gorgeous packaging and their organic body scrubs are made with coffee, sugar & sea salt and look seriously amazing. I love seeing brands innovate & create!
5.
Inspiring Pencils:
I seriously love these "Boss Lady" pencils from
B is for Bonnie
. I've been trying to fill my desk/office space with prints, paper goods & office supplies that keep me motivated and inspired! I've also been thinking a lot lately about starting an online group for fellow women in their 20's & 30 in their first few years of business! Anyone interested?
What's inspiring you right now?
xoxo, lauren