Graphic tees are having a major moment right now. My prediction is that you'll be seeing them in lots of New York Fashion Week street style looks this week (Side note: do you track the shows online like I do? Be on the lookout for my trend posts)! I love the idea of wearing your heart on your sleeve. For me that means graphic tees with empowering messages, good vibes & Parisian phrases!
The trick to styling graphic tees is to pair them with more refined pieces to balance the dressy and casual look. I'm obsessed with the look of a graphic tee paired with faded boyfriend jeans, high heels, blazer & arm party! It's becoming one of
Check out a few of my favorite graphic tee picks (some are as inexpensive as $13.. score)!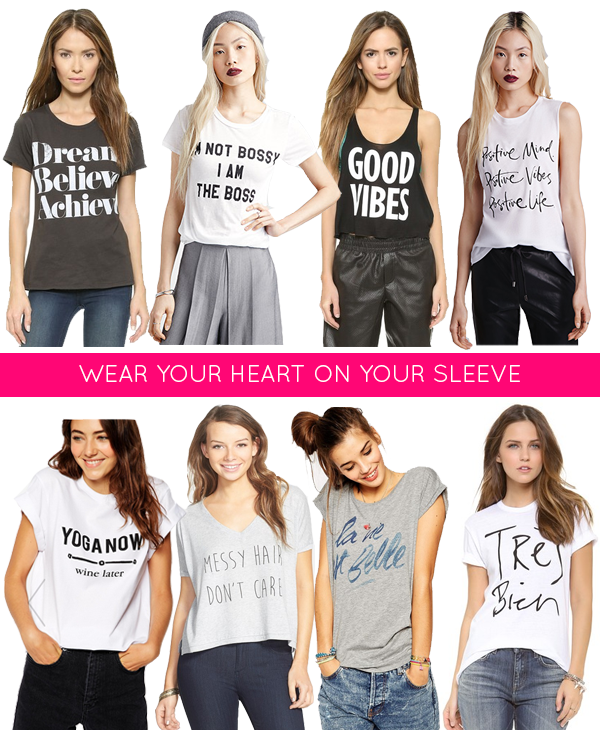 Shop the Post:
For even more stylish picks, check out the selection at Shopbop
graphic tees
- I love the designs & great quality of their t-shirts!
I literally feel like I need all of these in my wardrobe, but that would probably completely contradict the massive closet cleaning overhaul I've been working on the last few weeks! I'm just glad that my taste has matured from the "princess" & "diva' tees of my childhood- please tell me I'm not the only one who used to rock those?!
What's your favorite way to style a graphic tee?
xoxo, lauren