I literally cannot believe it. It's been
exactly a year
since I mustered up the courage to put in my two weeks notice at my corporate fashion job and started my own
social media business
. I'm pretty sure people both thought I was crazy or just planning on supporting myself from blogging (neither which are true, I assure you)! It's been a crazy year of ups and downs and so much learning. I want to share with you the things I've learned, wished I'd known and am still working on.
Progress, not perfection
my friends!
I'm going to spend another post answering your questions (feel free to
tweet me
or
email me
any that you have!), but wanted to start by telling a little bit of my story.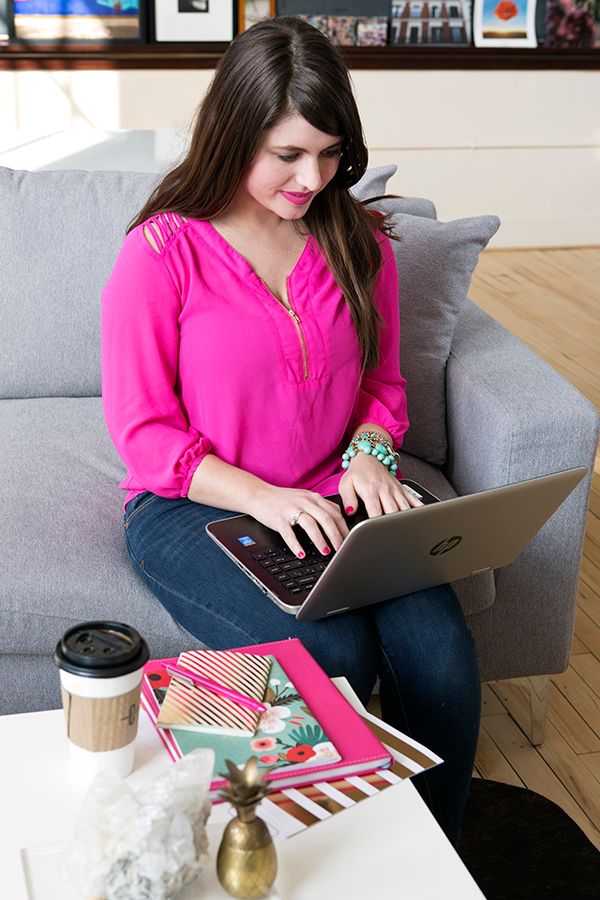 As many of my longtime readers know I started La Petite Fashionista in 2007 and have been blogging and celebrating my way through outfits and navigating my future ever since! I went to school for fashion merchandising at Florida State (go Noles!) & had big dreams of working in the fashion world. I couldn't have been more thrilled to land my dream job with a major retailer (which brought me to Wisconsin)! I learned so much, honed my strategy building and business skills and was able to get creative as well.
Even though I enjoyed my job, it felt like something was missing. I would come home from my 8-5 and spend every free moment working on my blog and side hustle doing social media and working on freelance projects. My parents are entrepreneurs and I've been entrepreneurial since birth, always starting businesses and making things to sell and save money for my "Hawaii fund"! I came to the realization that somewhere along the way I had gotten in my own way. I had given myself a million reasons why I shouldn't pursue my own dream. I took what I thought was the responsible path, going into the corporate world, but my heart and passion weren't there. I decided now was as better time than any to finally launch my social media business.
Now a year later, I've learned SO much and couldn't have done it without the support of family, friends and clients! Over the past year I've launched the
Social Media With Style Workshop
and
Strategy Sessions
and it's been my proudest moment ever!
Now, I bring you 5 things I learned my first year in business!
1. Start With A Plan
When I first "took the leap" I made sure I had a business plan in place. My very inspiring & entrepreneurial
sister
came to visit me in Wisconsin while she was also working on a small biz project. My parents got us a hotel room for the weekend (thanks guys!) and we spent the entire time nibbling on room service, drinking coffee and working on our business plans.
We scribbled down all of our ideas on
printable worksheets
and thought about everything from budgeting and finances to ideal customer to marketing. Many things have changed since that original business plan was created, but I can't imagine starting down this path without giving everything serious detail and thought.
2. Know Your Strengths and Weaknesses
One of the things that becomes clearest when you are a solopreneur is your strengths and weaknesses. From there you have to learn how to maximize your strengths and continue improving on your weaknesses!
For example, I know that one of my strengths is my passion and dedication to projects and clients. I'm a total perfectionist when it comes to my work, so my clients and workshop participants always know that I'll be giving them 110%. On the contrary, my weakness is taking on too much at one time. Sometimes you have to know when to say no, or extend deadlines. There are only so many hours in the day and I'm working on learning how to better balance and manage each one of them!
3. Value Your Time and Know Your Worth
The most difficult thing about being a business owner AND blogger is balancing my day to day activities and income streams. Coming from the corporate world where I had a set salary has totally changed. I'm solely responsible for making sure I have enough income coming in. This can sometimes result in making some difficult decisions like saying no to fun things to ensure I have enough time to finish up and prioritize my business responsibilities. It's so crucial to build some structure to your work week to ensure that you're balancing your work & passion projects!
There can also be some perks to having a flexible schedule and working for yourself. You have to figure out how you value your time. For me, even though a coffee date with a fellow blogger or entrepreneur may take an hour of work time away, nothing makes me happier than talking to and connecting with fellow bloggers and business owners. Having a stressful week? Sometimes breaking at lunch to take a yoga class can benefit you 10 times more than working through your lunch.
4. Build a Support System
I know for me, personally having family, friends and blog readers who believe in what I'm doing has made the biggest difference in the world. I think it' also important to note that you don't want to exhaust those relationships either - you don't want to stress out your support system! Having a group of peers that can help you celebrate successes & you can bounce ideas off of is invaluable.
I recently joined With Grace and Gold's
Facebook support group
for women small business owners and it's awesome having others to talk to that know what you're going through. I also started attending a mastermind group at Madison's local
Dream Bank.
A mastermind group is a group of small business owners that share any obstacles they're having with their business and gain insights and action plans as a result of your meeting! It's a pretty inspiring group.
5. Continue Growing & Educating Yourself
As I mentioned, I've been attending lots of free sessions at the Dream Bank, listening to lectures and attending sessions on everything from sales to social media. At first I was nervous to step out of my comfort zone and attend events but it's allowed me to connect with so many awesome people! I love networking in person and try to schedule a coffee date a week. I also love attending workshops and events like
Go Blog Social.
When I'm working I LOVE listening to podcasts (see my favorites
here
)! I also am always looking to read new business books (my
favorite books for the #girlboss here
) in my free time. Some may say I don't do a great job unplugging (who meee? never!), but I'd argue that when you love what you're doing -and it makes you happy- it's okay to surround yourself with it!
Sorry for the novel everyone! For anyone wondering I'll be offering my next
Social Media With Style Workshop
on April 3rd and in celebration of our one year anniversary I'm offering a
pre-register special
of $20 off! I have availability this month for one-on-one
Strategy Sessions
).
Next, I'd love to know-
Do you have any questions about starting a business?
I'll be answering your questions in another post this week! Feel free to
tweet me
or
email me
!
xoxo, lauren