As the winter drags on, my boyfriend and I are officially burned out on binge watching movies. On the other hand it's so cold it's hard to leave the comfort of our warm and cozy house. This makes for the perfect circumstances for game night date night! We got to test out
Trivial Pusuit Live
on the XBOX One and we're obsessed! We've been playing a few times a week, and it usually ends up with me teasing Kyle about his lack of "Entertainment" knowledge or him trying to stump me with the "Sports & Leisure category. I created these candy skewer cocktails (that I'll be sharing the recipe for!) that mimic the colorful categories in the game!
What you might not know about me is I'm a bit of a trivia junkie. While I may not be able to tell you what I ate for lunch yesterday, I can recall random facts and pop culture tidbits like no one's business! I totally recommend that you download this game for your next game night with your significant other, friends, or family. I'll share more about the game later in the post.
Cheers to game night, check out our colorful Trivial Pursuit Game Night Cocktail, a grown up version of the Shirley Temple (that can easily be made non-alcoholic) with a tasty candy skewer stirrer.
Game Night Cocktail:
1 Can Sprite (12 oz/1.5 cups)
1 Shot of Vodka
1 tsp Grenadine
Add Ice & Mix well, skip the vodka for a non-alcoholic version & don't forget the candy skewer stirrers!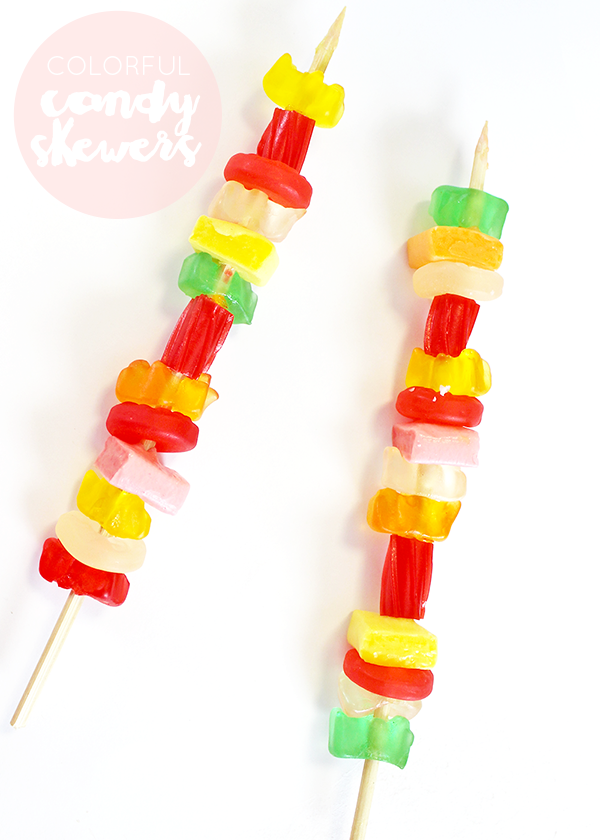 Candy Skewer Stirrers
Choose a variety of gummy & soft candies and pierce them on a wood skewer. My personal favorites are licorice, gummy bears and anything sour! Put them in a tasty and colorful arrangement- really, you can't go wrong. I also coated the glass rim in icing & coated it with nerds for a fun element!
The awesome thing about the
Trivial Pursuit Live
game is that it can be downloaded right to your gaming console (XBOX or Playstation)! Just like the traditional Trivial Pursuit board game it has trivia questions for categories ranging from Sports & Leisure to Arts & Literature, but with new twists. It keeps each game exciting and competitive! If you don't have a team of four you can even have the system pair you with actual people in a "party'!
Each round varies in the style that participants can answer questions and the trivia questions are modern and up to date (for example, I was SO excited when I got a question about who won the 2013 National Championship.. my beloved FSU Seminoles, of course)! Another nice thing about the game is that it even if you're the underdog the whole game, you can make up your points in the final round- so it's anyone's game!
I hope you have a fun game night & cocktails date night or get together with friends. It's such a fun way to spend time and connect!
What are your favorite date night at home ideas?
xoxo
,
lauren
I was selected for this opportunity as a member of Clever Girls and the content and opinions expressed here are all my own.