It's officially been a week of engaged bliss & I'm excited to tell our story! I try to keep my personal life fairly separate from my blog.. but this is just too big a part of my life not to share! I promise I won't be turning this into a wedding blog, but I will definitely be posting about our wedding planning experience since we will be DIY-ing and budgeting our way through it all. The series will be called "La Petite Wedding" & you can follow my inspiration on
Pinterest
to get a peek at what I'm loving. Without further ado.. here it goes!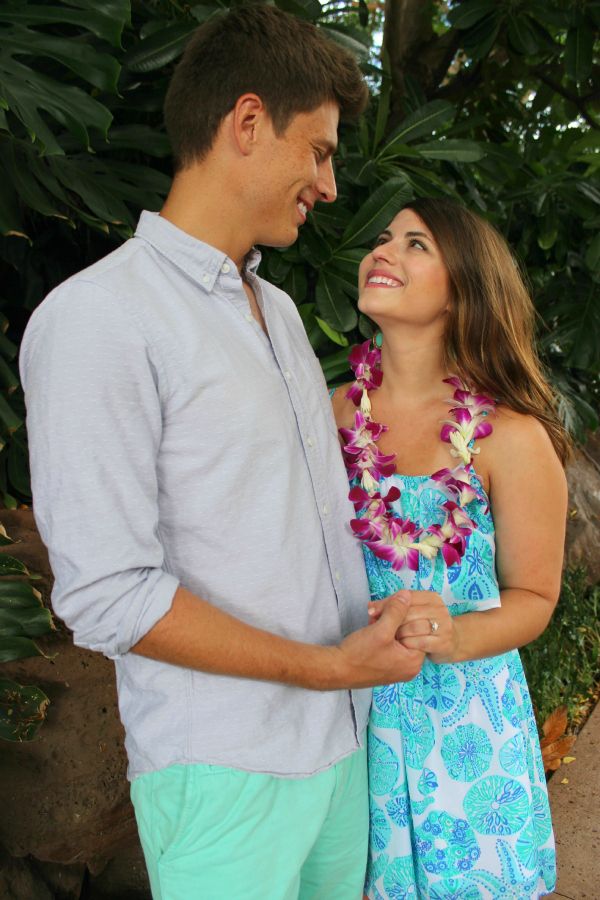 The Back Story: I never expected that life would bring me to Wisconsin. If you've followed my blog for a while, you know that an internship led me to my first job, here in the Midwest, working in the fashion industry. I moved here knowing a small group of people I made friends with during my internship, had relatives nearby and lived in an old tiny 2 bedroom cottage (unknowingly with a major spider problem). I endured my first Wisconsin winter and though I missed my family & friends back home in Florida, this place slowly started to feel like home for me.
I met Kyle through a group of friends a couple of times, but didn't get to know him very well until I heard that he had gotten a job in my department at work. I invited him to lunch and slowly we started to become friends. That summer we hung out all the time with our friends- grabbing pitchers at the Wisconsin union, grabbing dinner, and tailgating for Badger games. One day he asked me out on a solo sushi date at one of the nicest places in town. The dinner was great, but it was obvious that there was a deeper connection than just a love of delicious food. We got back to the house and he had a bottle of my favorite Sauvignon Blanc in the fridge. He acted like it was coincidental but I know now he was just being his thoughtful self.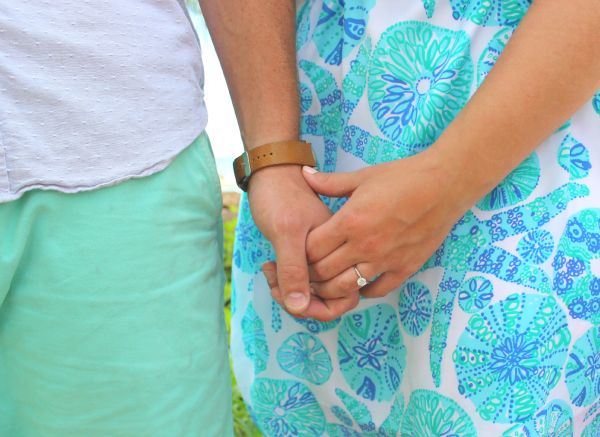 Since that first date we've been pretty much inseparable. We bonded over our love of sci fi movies, coffee, and travel. I introduced him to wine drinking & Harry Potter. He introduced me to the excitement of March Madness and hiking I never thought I'd meet someone like Kyle. He's a blend of so many of the qualities I value most. I admire the sweet and hard-working values and outdoorsman spirit he gained growing up in the country. Equally as much, I love that he's down to try out new cuisines, visit art museums and travel the world with me.
His parents welcomed me into the family with open arms and my family did the same for Kyle. We've experienced so much together from Kyle's first trip to Disney (my fav!) to hiking through Park City to the less adventurous (but equally as special) quiet mornings at our local coffee shop. He's also been there for me through tough times and life transitions- from losing grandparents to leaving the corporate world to follow my girl boss dreams. He's a keeper, guys.
The Engagement:
After my Nana passed away this year, my mom was inspired to take a family trip to Hawaii to spend some quality time together. Hawaii has always been a special place for me. I've visited twice with my aunt and I've always felt so connected to it- from the tropical floral prints to slack key guitars and travel sights. I'm not sure what it is, but the aloha spirit is something I always keep close to heart. It's my happy place and I was so excited to share it with my family and Kyle!
We started our trip in Maui, venturing through the Road to Hana, Old Lahaina Luau & enjoyed lots of sunsets and tropical drinks (my travel guide
here
). When we ventured to our next island, Oahu, we stayed at Disney's Aulani resort. It included all of the special details & experiences that make Disney unique and was the most beautiful waterfront location. Stepping foot at the resort instantly felt like paradise.
As soon as we got to Aulani, Kyle suggested we book massages at their beautiful spa, Laniwai. I of course, obliged and planned them for our 2nd to the last day of the trip. At the spa and spent some time soaking in the hot tubs, lounging in the relaxation room & drinking pineapple lemongrass infused water. Our couples massage was the best I've ever had. Leaving the spa I told Kyle that I couldn't remember the last time I was so relaxed- something which is admittedly difficult for me to do.
We picked up a bottle of wine for later and decided to eat dinner at the resort at one of their waterfront restaurants. Between the sound of the ukulele in the breeze to the roll of the ocean it was a little slice of paradise. After dinner I was feeling so relaxed I just wanted to cozy up in bed, but Kyle (& my family) convinced me to give in to Kyle's request to go for a walk. Kyle grabbed our wine & some glasses in a backpack and headed down to the beach.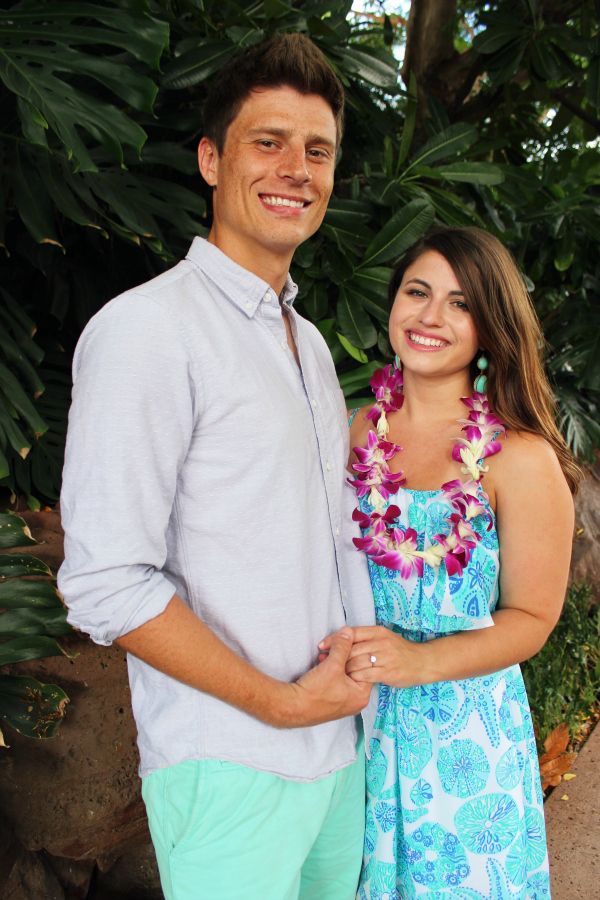 As we walked along the boardwalk drinking our wine, I continued to tell him how thankful I was for being able to experience this trip with him and soaking up the view. He kneeled down- I thought to get more wine out of his backpack- and popped the question with ring in hand. It took what seemed like forever for things to "click" and I suddenly realized I was being proposed to. I of course said yes and couldn't shake the feeling that it felt like the happiest dream.
We walked back to the hotel room to share the good news with my family (who were waiting up for us to come back). The night is a blur of elation an relaxation and love. I wasn't expecting it at all. I love that he chose my favorite place and a time surrounded with my family (who all live far away) to share the experience with. I am still on cloud nine- and I hope a tiny bit of this feeling lasts forever. The wedding will be wonderful, but I'm just excited to be married to my best friend and all that the future holds for us.
Thank you for reading the longest post ever! I'm excited to share this whole journey with you.
xoxo
,
lauren