"Start each day with a grateful heart... and a large cup of coffee". Pretty sure truer words have never been spoken! This
graphic tee
was designed & sold by Lauren of
Hibiskiss Clothing
, a fellow girlboss. She swapped her NYC stilettos for flip flops and is living the dream in Hawaii. She has the cutest unique apparel designs in her shop and an inspiring and positive outlook on life!
This year has totally flown by and truth be told there are so many things I wanted to do with my business that just didn't happen! It's always disappointing to me when I don't achieve the things I set out to do. I spent last week working on my business plan for 2016 and I'm so excited about what's in store. Each new year presents a opportunity to re-evaluate, manage your time better, and dream bigger. I can't wait to share with you what's in store!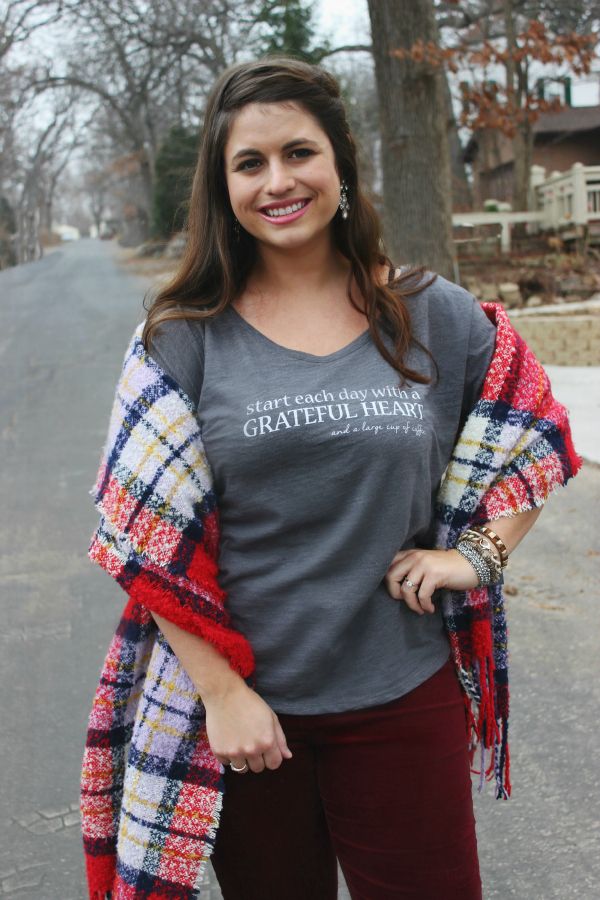 What I'm Wearing:
It's been a long time since I've worn colorful pants but these velvet-y burgundy pants are so perfect for the holidays and so perfect for dressing up a graphic tee. Blanket scarfs look super over-whelming on my 5'0 frame, but I love wearing them as a cozy wrap! I'm so impressed with the quality of my Hibiskiss graphic tee. It's the right amount of slouchy and super soft!
I'm so grateful for the last year and a half in business. It's been so fun watching my little business evolve and take shape and I've met so many amazing people along the way! I'm excited to see where 2016 takes me. If you're a business owner wanting to up your social media game next year, sign up for a
Social Media Strategy Session
with me. Bloggers,
let's chat
about what you can do to grow your blog in the next year!
xoxo, lauren