When I first got engaged, one of my initial thoughts was "how am I possibly going to be able to choose between all of my friends for bridesmaids.. no seriously.. I'm going to have like ten bridesmaids". Which let's be honest, for our little cozy & rustic chic nuptials, would be a bit overkill. After discussing it together, Kyle and I decided we'd just have our siblings be our groomsmen and bridesmaid.
I was so nervous that my closest girlfriends would feel let down by my decision, but they were so incredibly supportive. I stressed to them that I still wanted them to be with me getting ready (mimosas & hair braiding anyone?), have special recognition (seats by the front during the ceremony). Most importantly, I wanted them to know how much I love and appreciated them. I just want them to make it up to Wisconsin to enjoy this special time with me, no bridesmaid dress necessary.
I learned that in the South they call this tradition a "
house party
"- it can be a great way to include and honor a large group of friends and family without having an enormous wedding party. When I was home over the holidays I gifted my girl friends a few fun & festive bridesmaid gifts and let them know, "I can't say I do without you"!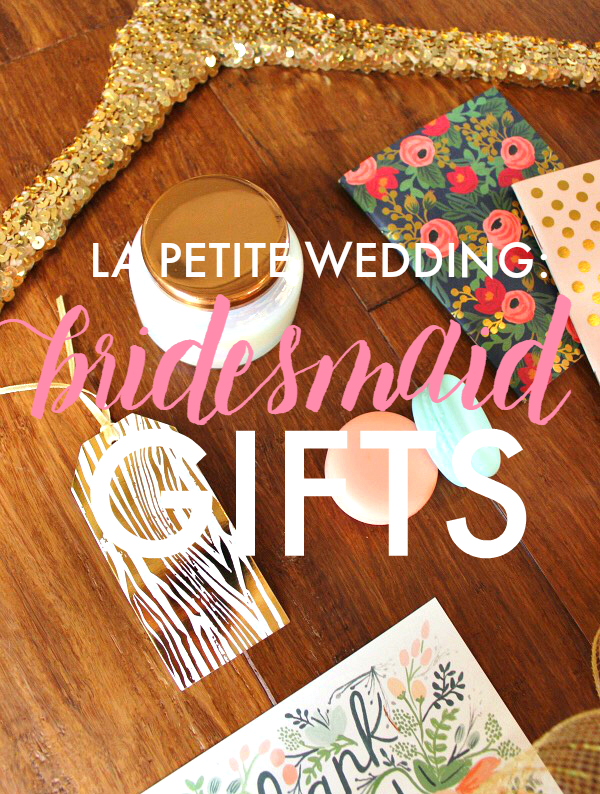 My Bridesmaid Gifts:
I also wrote notes on
these
sweet botanical floral cards thanking them for being
the best
& asking them to be a part of our day!
I've also rounded up a few of my favorite ideas for bridesmaid gifts.
Stylish Bridesmaid Gift Ideas:
I'm so incredibly thankful for my friends near and far. After five years of living in Wisconsin, I'm just really excited for everyone to make a trip to the Midwest and enjoy the place I've come to love so much & be with me while I marry my dream guy. I'd love to hear any of your fun ideas for a relaxing & fun wedding morning. I'm thinking coffee & mimosas, a fun playlist & pampering with my favorite ladies!
xoxo,
lauren
Want to see the details from our actual rustic modern wedding on Kyle's family farm? Head to our new blog, La Petite Farmhouse!