I couldn't be more excited for 2016. We're getting married, I'm launching some exciting new things with my business, and I am trying to focus on the big picture. I've been trying to be extremely thoughtful about the way I plan out my year's goals and the steps I need to take to reach them. Lara Casey's Power Sheets have been the biggest help in figuring out what I'm saying "yes" to in 2016.
I live in what I like to call "creative chaos". My mind is always in a million places and one of the few things that keeps me on track is my trusty planner. There's just so much going on and there's no way to keep track of it all without having it written down. This year, I've chosen Emily Ley's Simplified Planner which maps each day out hourly, has a sidebar for to-do's and offers inspiration and goal setting along the way.
I'll be sharing a few of my tips for using my planner, but first I wanted to share a few of my favorite planners for keeping you organized in style this year. There's a big range in prices depending on your needs- and a lot of them are on sale right now!
Stylish Planners: Organize Your Agenda in Style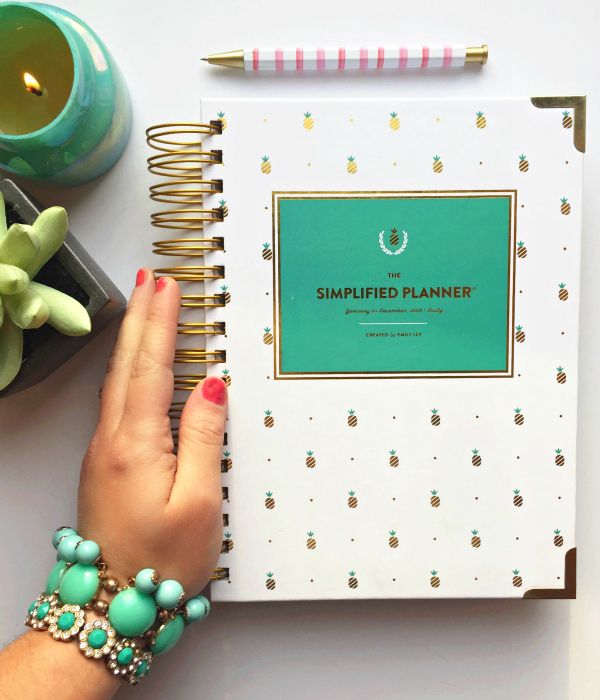 As I mentioned, I'm pretty in love with my Emily Ley
Simplified Planner
! If you're one of those people who loves making daily to-do lists you'll adore it because it allows you to map out your day in hourly increments to stay on track. I also love the uplifting daily quotes &colorful tabs that make each month easy to navigate to. Also, the gold pineapple cover.. need I say more. If you have your eye on one act fast, because she's almost sold out for the season!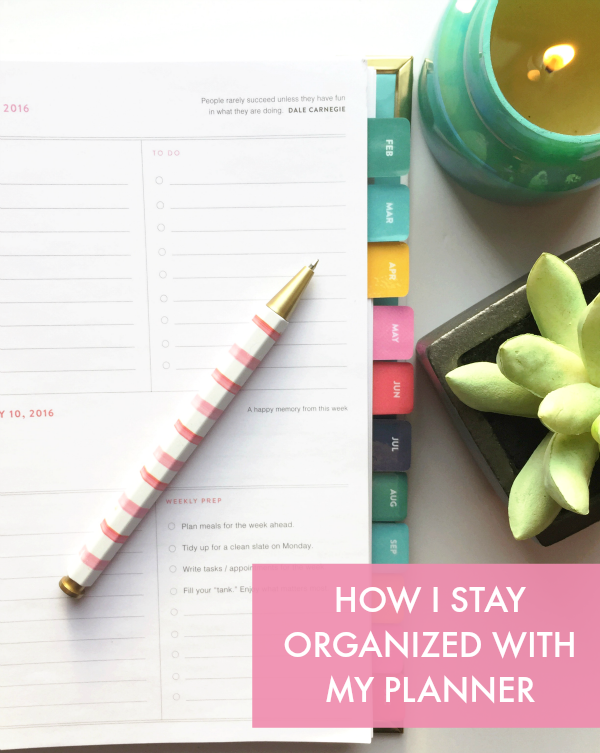 I just wanted to share a few of the ways that I like to stay on top of things & organize with my planner:
Mark Down Important Dates: family & friends' birthdays, anniversaries- and if you're the snail mail type write a reminder the previous week so you can get it out in time!

Schedule in "Me" Time: whether it's reading a book, a massage, or yoga class.. make sure to make self care and R&R a priority

Inspirational Quotes:

If your planner has room in it, write a daily uplifting quote or mantras to keep you going on the toughest days (head

here

for inspiration).

Carry it With You: It's the quickest way to make sure you don't have conflicts when trying to set up meeting times with potential clients or co-workers.

Use a Great Pen:

This is going to sound ridiculous, but I love writing with a great pen. This set from

Poppin

is my absolute favorite.

Highlight Your Accomplishments: But seriously- I get so much joy highlighting something off my to-do list. It's just so gratifying!

Keep Track of To-Do's: If you don't finish something on your to do list, add it to the next day's to make sure you don't forget about it.

Be Realistic: The best way to keep your planner from overwhelming you is to only add what is realistic to achieve.. You'd much rather end the day feeling accomplished from getting everything done than stressed out over how much needs to be done.
If I can leave you with one thing it's to give yourself grace.
We can't do it all and do it well. So this year, I'm focusing on what will make a difference and the biggest impact and trying not to stress over the rest!

How do you stay organized?
xoxo, lauren