I can't imagine a better way to start the year off inspired than attending a blogging conference. I was SO thrilled when the ladies of Windy City Bloggers reached out to me about speaking on a panel at their "Blog Your Best" conference in Chicago this past weekend.
I made it a personal goal to do more public speaking last year (purposely because it was so out of my comfort zone) & I think I've now done nearly a dozen speaking gigs in the past year. So crazy! I'm a big believer in putting what you want "out into the universe" because you never know what will happen. Speaking at events has even become a huge passion for me!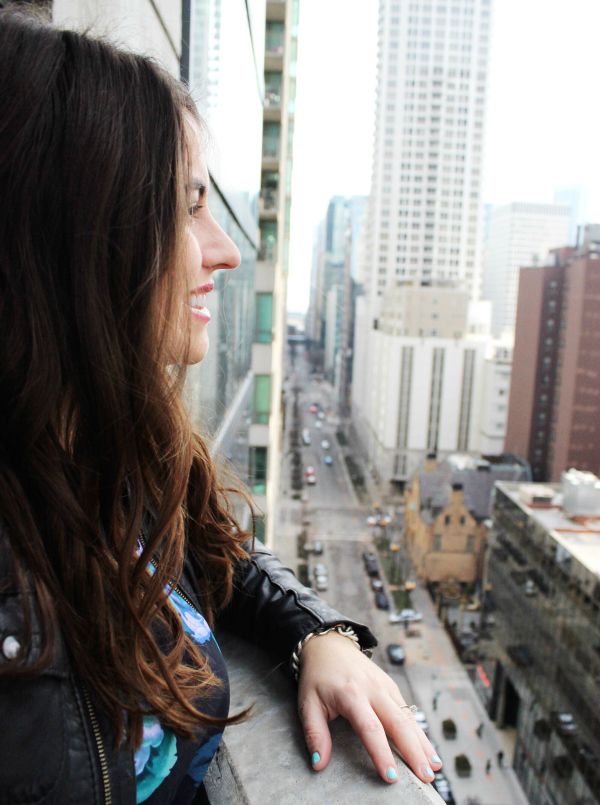 You would think after blogging nearly 9 years that it would be hard to find value or learn more at conferences but that couldn't be further from the truth. I can always learn something new and one of my favorite parts is meeting and connecting with other bloggers! I think what was so great about Blog Your Best was that it was action-oriented, conversational & transparent. All about real experiences, best practices, and resources that have worked for top bloggers.
(The CUTEST swag bags designed by Lindzy from
The Trendy Sparrow
)
I wanted to share a few of my top takeaways & resources from this past weekend's
Blog Your Best
conference!
Finding your niche & "your people" is essential to making it all click. Speaking of that- thank you for reading & supporting me, friends! This is going to be one of my biggest challenges as we make our move out into the country and I enter this new phase of life as a Mrs.
Always provide value. I know with my schedule I can't commit to blogging 5 x per week, but during the times I do I want to provide value whether it's style inspiration, ideas for saving more money, or tips for using your new planner!
Learn more about photography. My photos have definitely improved since the early days of LPF (mega-cringe!), but I have so much to learn. I'd love to learn more about using my DSLR to document more of life & of course better outfit details!
Collaborate, Collaborate, Collaborate! Think about mutually beneficial ways to partner with other bloggers and brands. As my favorite group, Rising Tide Society says- "community over competition".
Always overdeliver. This is true for blogging and business. Going above and beyond and "overdelivering" what is promised is always what to shoot for! Whether it's an extra social media shoutout or even a handwritten thank you note!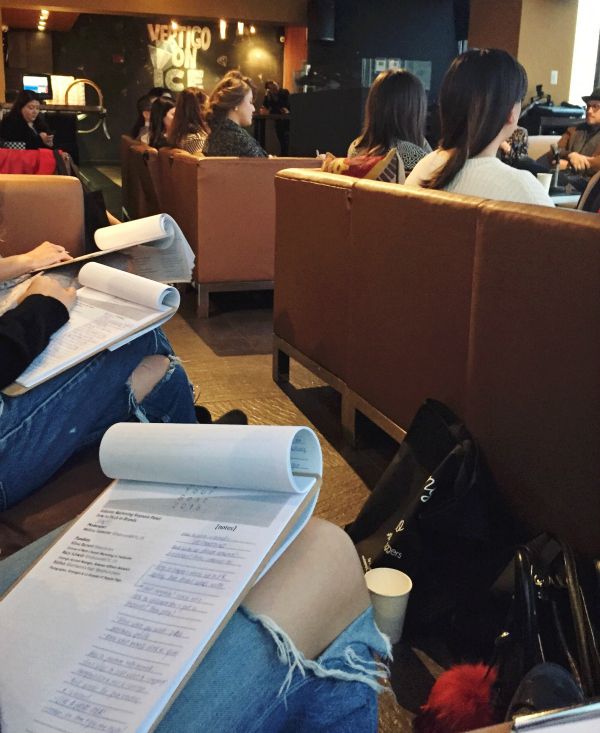 (hard at work taking notes)
As always, one of the most rewarding parts of the conference is meeting new people! I was so thankful to have the opportunity to learn from inspiring blogger biz ladies like
Alaina
from the Everygirl, Kelly from
Kelly in the City
, Blair from the
Fox and She
& Amanda from the
She Did it Her Way Podcast
. A special thanks to
Kit
&
Erin
from Windy City Bloggers for putting together such an incredible day of learning and connecting.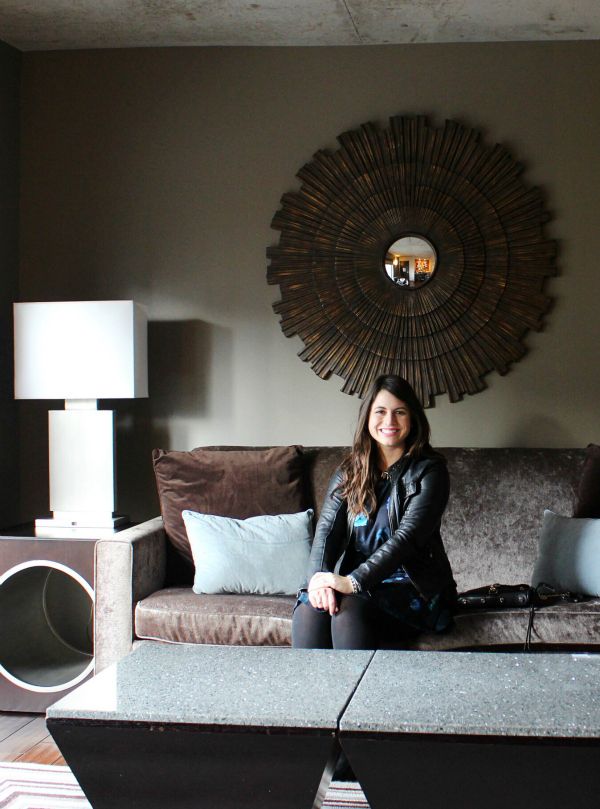 (Have you ever seen a cooler hotel room?)
The conference was at the
Dana Hotel and Spa
in downtown Chicago and I don't think you could choose a more creative and inspiring space. The team was awesome enough to put me up in a room during the conference. My hotel room was one of the coolest spaces I've ever stayed in- in fact it felt more like a fashionable friend's cool apartment. From the rustic modern furniture and decor to the giant walk in shower, and beautiful sweeping views of the downtown cityscape.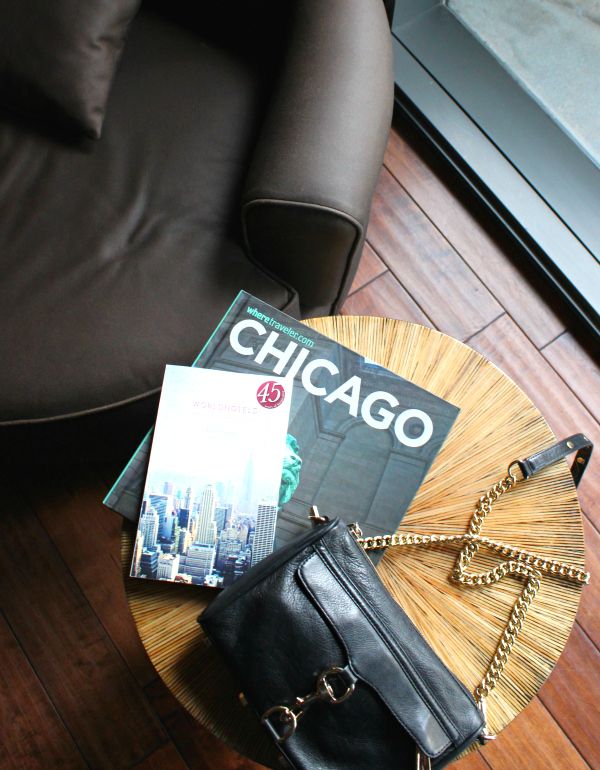 (Obsessed with this wood side table)
The first night I was there I stumbled upon a "Fire & Ice" party at the Dana's rooftop bar which was SO much fun. Literal ice bars, tables & chairs and tasty drinks to fit the them. I was exhausted after the conference and grabbed a delicious dinner and cocktail with new blogger friend
Olivia
&
Kit
at the
Freestyle
restaurant on the bottom level of the hotel. I tried the macaroni & cheese, sesame chicken tacos & a basil St. Germain champagne cocktail. I even ended up bringing back a little to my room to snack on and watch "Fixer Upper" in my pj's! Please tell me I'm not the only one who does that?!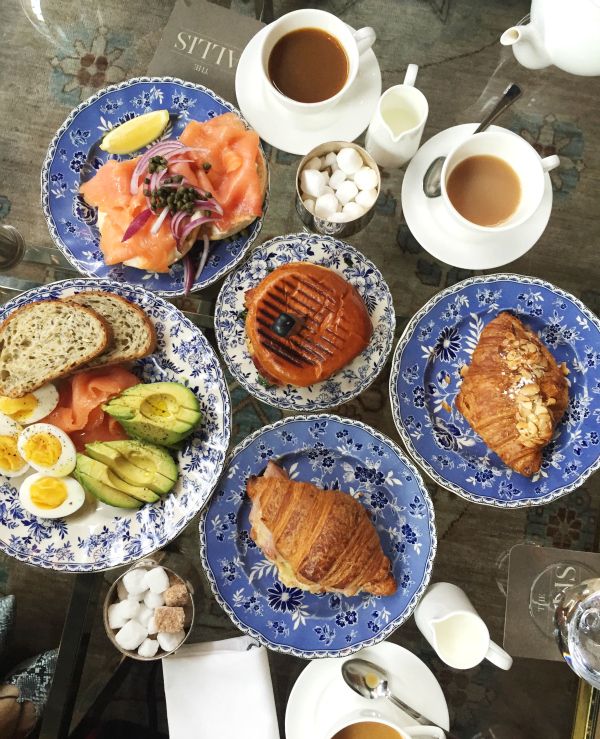 (A beautiful blogger brunch at The Allis in Chicago)
Before I headed back to Madison on the bus I met up with
Ali
,
Kit
&
Olivia
for brunch at
The Allis
. It's a beautiful, light & airy spot inside the impeccably designed
Soho House
. I love that eating with bloggers means it's totally normal and okay to wait to eat until everyone's taken a few shots for Instagram. Yes indeed, these are my people!
I'm feeling so energized and excited after a great weekend in the city. I can't wait to implement everything I've learned and keep in touch with new blogging friends!
xoxo, lauren