You've seen my fiancé Kyle pop up on the blog many times throughout the years, but in honor of Valentine's Day, I thought I'd share a little bit more of our story! Let me tell you, when I moved to Wisconsin for my first job out of college I was not expecting to find love. In fact, I thought I'd probably get my feet wet in the fashion industry and move on to my next job.
When Kyle & I first met it wasn't love at first sight (though I always thought he was so cute). We ended up working together and a friendship began. It started as group dates- pitchers of beer with friends on sunny summer days at the Memorial Union and eventually led us to our first date. I felt something special from the start. I've always felt incredibly comfortable and secure with him. We can just talk for hours or binge watch the X-Files together and not get sick of each other.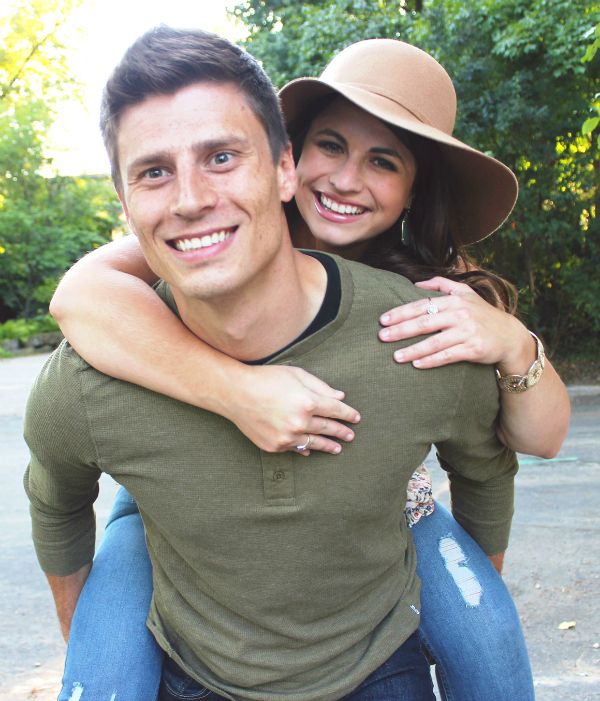 This summer we'll be dating for 5 years and we've been through a lot together- both the great times and roadblocks. Trips together (and an endless desire to explore), learning new things (cooking classes), and foodie date nights around Madison trying out restaurants. Plus he has this totally goofy side to him that very few people ever see. Though our personalities are different (he's more introverted, I'm more extroverted), I think we really complement each other's strengths.
He has been supportive every step of the way while I change career paths and venture out on my own- which I am so thankful for. I'm not going to lie, it can be challenging dating or being married to an entrepreneur. There isn't the financial security that a 9-5 provides, but it can also bring amazing opportunities, flexibility, and work life balance. He's even let me help him get started on Instagram
@kylejanderson
As we plan our wedding and prepare for the next phase of our life as a married couple we've made focusing on our values a priority. We both want to live a simple but fulfilled life and are excited to start renovating his family's 100-year old farmhouse next year.
If you're interested in hearing more about our journey & future plans be sure to tune in and listen to our episode of
Our First Drink
(a podcast interviewing creative couples)!
xoxo, lauren
P.S. Let me know if you'd be interested in hearing more about our journey into a farmhouse renovation and living a stylish & simple life out in the country? I'm currently debating if I want to branch off onto another blog, or incorporate more of that content on here? Feel free to tweet me
@lpfashionista
!