Ever since Kyle and I set a date for our wedding it feels like time is moving by at lightning speed.We're trying to take advantage of every weekend, make time for dates nights and slow down and enjoy each other's company. Traveling and exploring new places is one of the things we both love most. There's nothing more fun for either of us than a spontaneous weekend road trip.
I'm partnering with Dove to share how I'm incorporating their new Dove Dry Spray Antiperspirant into my weekend getaway packing list. This new product from Dove is a huge up & coming beauty trend, and it makes the perfect travel companion. It's perfect for the girls like me who always seem to be on the go!
Be sure to pin & save my weekend getaway checklist to make sure you don't forget any of the must-haves on your summer adventures!
My Weekend Getaway Packing List: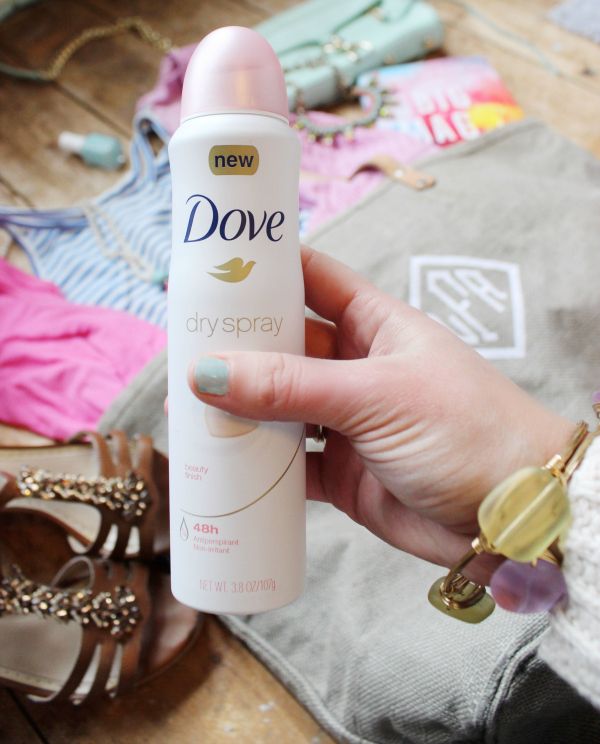 I have a perfectly roomy tote that I love using for weekend trips. It helps me practice some constraint, because let's be real.. do I really need 4 pairs of shoes for a weekend trip? The key to packing light is choosing pieces that are super-versatile. For example, a dress that can be great as a cover-up during the day and dressed up with a statement necklace for evening. It also helps to do a quick survey of the weather report before you leave. Anticipating rain and chilly temps? Skip the sandals and use the space for a rain jacket instead.
Want to make sure you don't forget anything? Check out my getaway packing list below. I'm also sharing tips for getting the most versatility out of your pieces.
Here's a few of the highlights of my essentials for a weekend getaway:
Clothes:
Choose a dress that can work for day or night and jeans and a chic top as the base of your weekend wardrobe. A denim jacket is perfect for layering over a dress on chilly evenings. A pair of flats and wedge sandals should be a great balance of comfort and style. Leggings and a slouchy top can work for pajamas or be worn for a hike or exercising depending on your itinerary. Don't forget the bathing suit! Even if you're not headed to the beach you don't want to miss out on the hotel's hot tub.
Accessories:
Choose accessories that coordinate with the clothing you're bringing and fit the vibe of your vacation destination. I'm a big fan of statement earrings and dainty necklaces that look cute with a bikini or sundress. You may also want to bring sunglasses or a hat if you plan on spending your weekend out in the hot sun!
Beauty:
When it comes to toiletries, without fail, I somehow always seem to forget an antiperspirant. I'm excited to have found a product I won't travel without now. Dove Dry Spray Antiperspirant goes on instantly dry, gives you 48-hours of odor and wetness protection and no visible residue. It even has moisturizers to help give you softer, smoother underarms.. score! You'll definitely want to try this one out for yourself guys- check out more info at
Dove.com/TryDry
.
As for packing my cosmetics bag for a weekend trip, I tend to go with a low-maintenance version of my normal routine. For example, using a BB cream instead of foundation that packs in some SPF protection and skipping the eyeliner in favor of a lash-lengthening mascara! Dry shampoo is a perfect solution for giving your 'do some life during action-packed days.
ETC. Essentials:
I hate driving, so typically when Kyle and I are roadtripping he's in the captain's seat and I'm the comfort officer. So, I'm responsible for the can't-stop-singing-along 90's jam playlists, podcasts that make the hours on the road fly, and the oh-so-crucial navigation. Don't forget a phone charger to keep said navigation fully charged, a camera to document your short but sweet weekend moments, and car snacks (my go to: licorice, Kyle's: sour anything).
We've already been planning a couple of weekend trips to Milwaukee and my family's cabin in the Northwoods.. but I'd be perfectly happy if we just made spontaneous plans on a Friday afternoon to get in the car and drive (are you reading this Kyle?). Now, I've got the packing list for whatever summer adventures come my way!
Thank you to Dove for sponsoring this post and allowing me to dish on this new beauty trend.
What weekend getaways are you planning for this summer?
xoxo, lauren