This has been one of the most crazy but exciting times of my life! Wedding plans are in full swing and I have to say- I'm enjoying planning more than I ever thought imaginable. I've always loved planning events- adding special details and DIY touches. So our wedding is the ultimate event to plan.
Kyle has been an amazing help in planning all of the details. We're savoring every little decision from our first dance song to which invitations to choose. I'm so thankful to have a partner in life and love who knows how much joy it brings me to have him be involved in our big day. He even helps me hunt for vintage milk glass vases on the weekend!
I thought today I'd share my wedding dress story, because it's one of the parts of wedding planning where I really felt like wedding pressures and bridal expectations came into play. I want to share some tips that will make the wedding dress shopping fun & memorable!
1. Wedding dress shopping is personal. Never feel (or let someone make you feel) as if you need a certain budget or look to your dress to be a bride.
This is something I never really thought about until I was trying on dresses! From the start, I knew that I wasn't going to have a $2,000 budget for a wedding dress. We're budgeting $10k-$11k for our entire wedding, so it just felt a little over-the-top for a dress I was only going to wear one day. I found a dress that I absolutely love for
$500
at BHLDN and never once felt like I was sacrificing style for budget. Side note- I didn't cry.. and I'm 100% okay with that (.. though my mom did via FaceTime). Let go of the feeling that there is a certain way you need to
look
. A perfect wedding dress is perfect because of the way it makes you
feel
.
2. Try on dresses on in your go-to silhouettes and a few that put you out of your comfort zone.
It's so easy to watch "Say Yes to the Dress" and feel like I need a corseted mermaid or princess-y dress to look like a "bride" but when it came down to it- that look just wasn't me! I tried a few on and just looked like a kid playing dress up or found that some of them were just unflattering. I'm 5'0", curvy and was literally drowning in some of the silhouettes that I tried on. It's so helpful to go in with an idea of what flatters your body type. I typically look best in dresses that are fitted at the waist for my hourglass figure. I was surprised to end up with a dress that I never would have picked on the rack!
3. Bring a group that you trust to be your cheerleaders (not critics!).
My mama actually wasn't with me in person when I tried on dresses (but I brought Kyle's mom). I made an appointment during a trip to Chicago and wasn't really planning on finding anything, but ended up finding the perfect dress We facetimed my mom during the entire appointment, which was so fun! I'm pretty sensitive and my mom & future mother-in-law know that- so they were cautious to offer advice on their favorites, but not say anything to make me feel self-conscious. Make sure you tell your bridal party or in-laws in advance if you want them to tread lightly or give you brutal honesty. If you love a dress and they don't.. don't let it be a dealbreaker!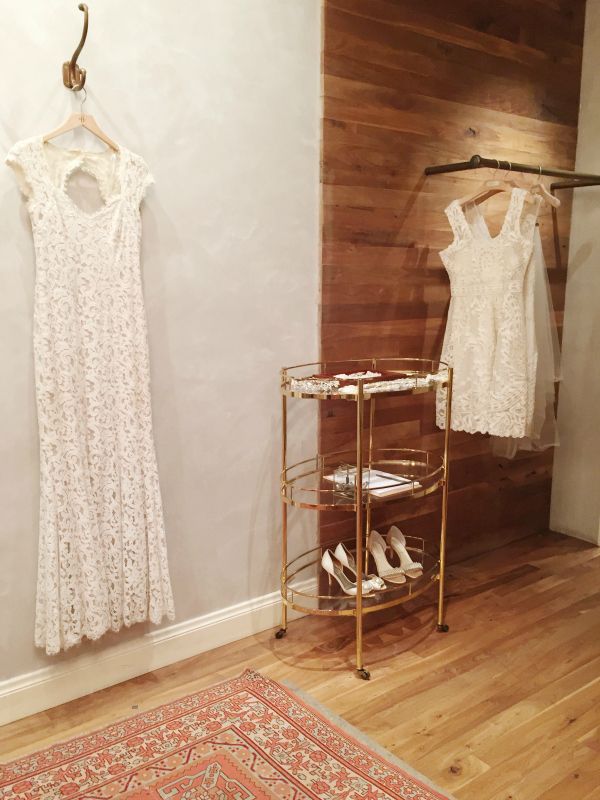 4. Do your research on bridal boutiques.
There are so many places to buy a wedding dress- from local independent boutiques to big box stores, to specialty off-shoots of big brands. Check out their websites & social media channels, and read reviews of the store. I chose to do my wedding dress shopping at
BHLDN
, Anthropologie's bridal store, which has a few physical locations throughout the country. I knew it was the right fit for me when they had me submit my wedding Pinterest board along with appointment request! It was an incredible experience filled with personal customer service, beautiful private rooms to try on dresses in (with good lighting & mirrors), and a wide range of silhouettes and pricepoints.
5. Be firm on your budget.
Weddings get so expensive that it's easy to start justifying an extra hundred.. err thousand dollars. Try to go in to your appointment with a clear idea of how much you're looking to spend. Avoid trying on dresses that are WAY out of budget. You don't want to fall in love with something only to find it's twice what you're able to spend. Be open minded .. if you're on a tight budget look at clearance dresses or simpler silhouettes that can be dressed up with sashes, veils, or accessories.
6. Bring the right undergarments & accessories.
This one was
so
crucial! I hate
strapless bras but knew that a good (or bad) one could make or break how a dress fit. I splurged and bought an extra supportive style from Victoria's Secret and it made all of the difference as I tried on dresses. I also picked up a pair of comfy, nude
shaping underwear
that really smoothed things out and offered subtle control. It's seriously a bride's best friend!
7. Put your best foot forward.
What do I mean by that? Wedding dress shopping can be nerve-wracking and stressful. Start things off on a good note by helping you feel like your best self. Go get a blowout or apply some faux tanner (earlier in the week) to feel like an extra glam version of yourself. Grab a glass of champagne with your favorite ladies if bubbly puts you in a lighthearted mood. Listen to your favorite music that puts on a smile on your face.. anything that sets the good vibes in motion!
I hope my tips help you if you're getting ready to try on wedding dresses (or going as moral support with a friend)! If you have any questions at all, feel free to
tweet me
!
To read all of my "La Petite Wedding" Posts click
here
.
xoxo, lauren
Want to see the details from our actual rustic modern wedding on Kyle's family farm? Head to our new blog, La Petite Farmhouse!